A workplace is where people come to do their job and make money, but it can also be a place to grow spiritually. Spiritual values such as integrity, compassion and humility can all be cultivated in the workplace if we take the time to nurture them.
This article will explore how you can show spirituality in the workplace to create a positive work environment and encourage employees to grow spiritually.
Practices for Spiritual Growth in the Workplace
A spiritual person is not a title but an attitude and set of practices that can be nurtured in the workplace. Here are some ways to encourage spiritual growth among employees:
Establish Clear Boundaries
Set expectations for how you want your team to behave and how they should treat each other. Make sure everyone is on the same page regarding what is acceptable and what isn't. Establishing clear boundaries for the workplace that respect both the religious or spiritual beliefs of employees and those who don't follow any faith is essential. Ensure everyone is aware of acceptable behavior and language in the office so that no one feels uncomfortable or excluded.
Acknowledge Spiritual Values
The most important thing to do is acknowledge the workplace's spiritual dimension and encourage employees to practice spirituality in their own lives. This can be done by creating a safe space for employees to discuss their religious beliefs or simply allowing them to reflect on their day at work through meditation or journaling.
Foster Spiritual Wellness
Another way to show spirituality in the workplace is by fostering spiritual wellness among employees. This could be done through initiatives such as providing access to spiritual resources, offering classes on mindfulness or meditation, and encouraging employees to practice self-care activities for their inner life.
Promote Spiritual Development
Finally, promoting spiritual development in the workplace is essential by encouraging employees to explore their core values and strive for spiritual growth. Spiritual practices such as prayer or reflection can be a great way to help employees connect with themselves and each other in meaningful ways.
Spiritual Values to Consider
Spiritual employees can bring a sense of meaning and purpose to the workplace. Some values to consider are:
Respect
Respect is one of the most important spiritual values in the workplace. It involves showing kindness, understanding and appreciation to your colleagues and clients, no matter their backgrounds or beliefs. Respect can help create a more harmonious working environment where everyone feels valued.
Integrity
Integrity refers to living up to one's values and being honest in all aspects of work. It also involves treating others fairly and respectfully, taking responsibility for mistakes and standing up for what is right.
Compassion
Compassion is the ability to empathize with others' situations and feelings. Showing kindness and understanding can help create a workplace culture of empathy and experience.
Self-awareness
Self-awareness is an essential spiritual value in the workplace. Taking the time to reflect on your emotions, motivations and experiences can help you make better decisions and become more mindful of how your actions impact others.
Humility
Humility is a virtue that refers to having an awareness of one's own limitations and recognizing the importance of others. It involves being humble and open to learning from mistakes and giving credit where it's due.
Being grateful for the opportunities and blessings in life can help create a positive atmosphere in the workplace. Showing gratitude towards others' contributions to work and taking time out of the day to appreciate what you have can make a big difference in how employees feel about their job.
Forgiveness
Forgiveness is an integral part of spiritual growth. It involves letting go of past hurts, mistakes and grudges to move forward with a sense of peace and inner strength. Allowing yourself and others to let go of negative emotions can help create a more positive work environment.
Benefits of Incorporating Spirituality Into Your Workplace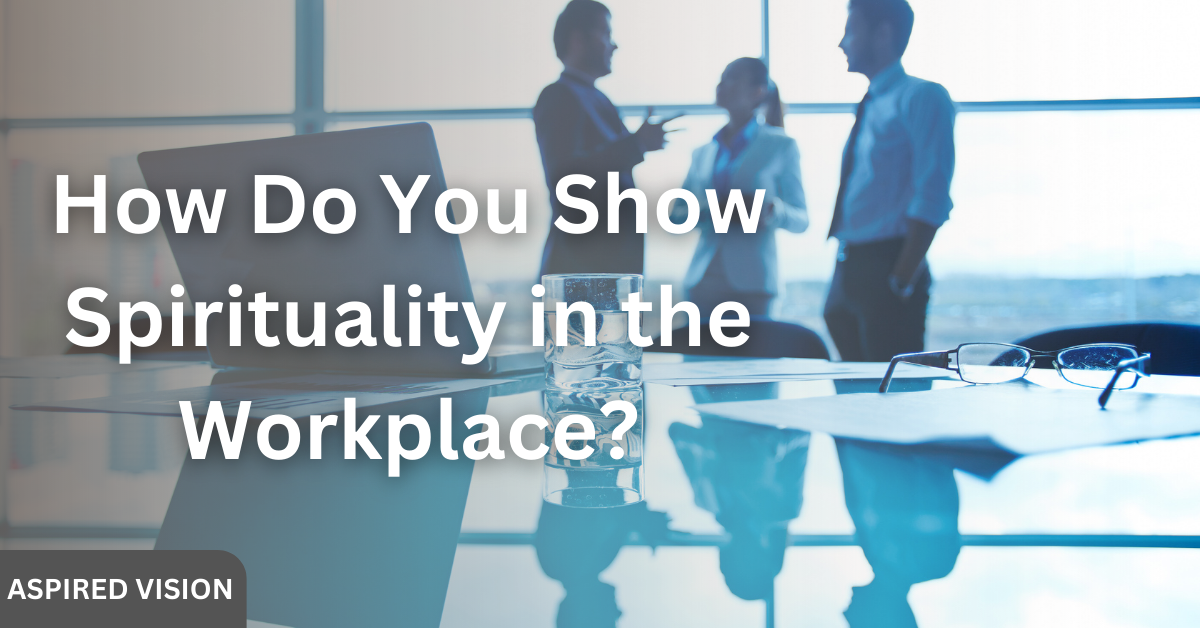 By encouraging spiritual practices in the workplace, you can create a culture of openness and understanding that will help employees feel supported and connected. Some of the benefits include:
Improves Job Satisfaction
Practicing spirituality in the workplace can improve job satisfaction and performance, as it helps employees feel more connected to themselves and their work. This can also contribute to increased motivation, creativity and productivity.
The spiritual dimension of the workplace can also create a sense of peace and contentment that can help employees better enjoy their work.
Enhances Self Awareness
Spiritual practices such as meditation and journaling can help employees become more self-aware, improving communication skills and emotional intelligence.
Self-awareness can also lead to better decision-making skills, which can benefit employees and employers.
Encourages Collaboration
Spirituality in the workplace can create an atmosphere of mutual respect and understanding that encourages collaboration between co-workers. This open communication helps foster constructive problem-solving approaches that benefit the entire organization.
Harmonious relationships can lead to improved cooperation, trust and team building.
Allows for Spiritual Growth
Having a spiritual dimension in the workplace allows employees to explore their values and beliefs in an open environment. This encourages individual growth by allowing individuals to practice their spiritual beliefs and have meaningful conversations about them with others.
It also creates a safe space for spiritual development and exploration, which can lead to personal growth and transformation.
Improved Focus and Concentration
Employees can improve their focus and concentration by taking time to practice spiritual activities such as meditation. This improved mental clarity can help individuals stay on task and be more productive in the workplace.
Reduce Stress Level
Stress is an inevitable part of the workplace, but spiritual practices can help to reduce stress levels. Regular breaks to practice mindful activities such as deep breathing and yoga can help employees feel more relaxed and better cope with work-related pressures.
The effects of a calmer mind are far-reaching, from improved concentration and productivity to more positive interactions with colleagues.
Strategies for Maintaining Spiritual Wellness at Work
Workplace spirituality can be enhanced by creating an environment that promotes spiritual growth and encourages employees to explore their beliefs. Here are some tips for employers on how to do this:
Encourage Open Dialogue
Encouraging employees to openly discuss their religious beliefs, values and opinions can create a deeper understanding of different views and help foster a sense of unity in the workplace.
Promote Spiritual Activities
Organizing spiritual activities such as meditation, yoga or mindfulness can help employees practice spirituality safely. These activities can also provide an opportunity for relaxation and stress relief.
Lead By Example
Leaders should set an example by incorporating spiritual values into their lives and modeling positive behaviors. This can help to encourage employees to do the same and create a more harmonious workplace.
Create Time for Reflection
Creating dedicated time for employees to reflect on their beliefs and practice spiritual activities can lead to greater self-awareness and emotional intelligence. This can help to improve communication skills and overall job satisfaction.
Educate Employees
Educating employees on the importance of workplace spirituality and spiritual values can help to create a supportive environment in which individuals are encouraged to practice their beliefs, while remaining respectful of the opinions of others.
Respect Religious Holidays
Respecting and accommodating employees' different religious beliefs can help create a more inclusive, harmonious workplace. Showing respect for other faith traditions can go a long way in fostering a positive, collaborative atmosphere.
Connect with Nature
Taking a walk outside or finding time to appreciate the beauty of nature can help employees feel connected to something greater and more spiritual in life.
Allowing employees to take breaks throughout the day and spend time outdoors can help them find balance and create a sense of peace.
Resources to Support Spiritual Practices in the Workplace
Many resources are available to help employers foster a spiritually supportive work environment. Here are some key resources that can be used to create a more mindful workplace:
Spiritual Coaches
Spiritual coaches offer a unique combination of insight and support for those looking for a spiritual connection in their careers. Working with a trained spiritual coach can help create an atmosphere conducive to personal growth, mindfulness and healthy working relationships.
They provide practical guidance on tools like meditation, visualization and other spiritual practices to help foster a sense of inner peace.

They can also assist with goal setting, problem-solving and communication.
Spiritual Retreats
Spiritual retreats are an excellent way for employees to step away from their everyday lives and gain perspective on what is important in life.
During a retreat, participants can participate in guided meditations and other spiritual practices, clarify their purpose and gain insight into their goals.
These retreats help create a space for deep reflection and transformation, providing employees with a way to reconnect with themselves and their faith.
Books and Resources
Books, readings, podcasts, blogs and articles are all great resources for people looking to build or deepen their spiritual practices. These materials can provide valuable insight and inspiration on topics like
Meditation

Prayer

Self-care

Mindfulness
Additionally, they remind employees what's most important in life and can help them stay grounded during tough times.
Religious Leaders
Many religious leaders can provide guidance and support for those wishing to explore faith in the workplace. They can help employees connect more deeply with their beliefs and understand complex topics like ethics, morality and justice. Religious leaders are often a great source of comfort when dealing with grief or loss.
Spiritual Mentors
Spiritual mentors have experienced personal and/or spiritual growth in their own lives. They can offer a unique perspective on life, faith and career paths as they have gone through similar experiences. A mentor can provide valuable advice and support for employees looking to develop more meaningful connections with their spirituality.
These resources can help employees to find a sense of fulfillment, clarity and peace in their work life.
Spirituality in the workplace is a powerful tool that can help employees connect with themselves, their faith and each other. Employers can create a more inclusive environment that encourages personal growth and connection by providing resources to support spiritual practices.
Ultimately, this type of atmosphere helps to foster healthier working relationships and build a culture of trust and respect.