So, you are looking to produce or create a pdf for your website and have stumbled upon this article because you can't find information regarding pdf file sizes for web. Or maybe you have existing pdfs you are trying to optimize for better rankings and are not sure if the file size is hindering your ability. Fear not, you're in the right place!
I too couldn't find what I was looking for! So I did a little more digging and this is what I found.
Why Even Have PDFs?
Web designers tend to appreciate PDF (portable document format) files because extra content that's a lot more detailed then what should be placed on a website can be included in them. While content is a wonderful thing, PDF files can quickly become an annoyance to your website's visitors if they are not used correctly.
It's entirely possible for PDFs to be ignored altogether, or they may unintentionally drive customers away or over to your competitors' websites. This doesn't mean PDFs, which have been in use since the 1990s, can't be awesome enhancements to your content and a good thing for your brand.
User experience is a big part of SEO today, even more so than specific ranking factors like keywords and links. But if you have a massive PDF file that's affecting the UX of one of more of your webpages, it could have an impact on your online visibility, traffic flow, and revenue potential. All of this brings us to the question I hope to answer for you today: What is the optimal PDF file size for a website and why does it matter?
A Good PDF Is a Small PDF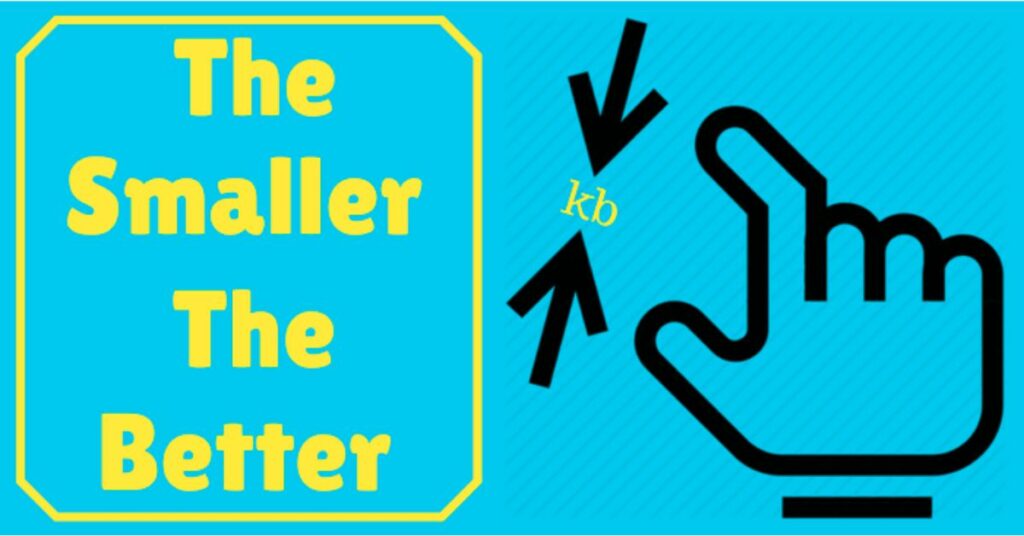 A PDF can be made of any Word document. But it still must follow the "rules" commonly applied to any webpage, especially when it comes to accessibility of content. So, the short answer to "what is the optimal PDF file size?" is small. I'd suggest no more than 1,024 kb. It's also a step that could help with your SEO efforts since anything that improves the user experience is going to be appreciated by Google and, more importantly, your intended audience.
But Why Does PDF Size Matter?
In order to render a PDF so that it's viewable, most browsers will need to download it first. With anything larger than 30-40KB, visitors to your site will have to wait for it to render. Not surprisingly, any lingering load time means increased odds of impatient visitors hitting their back buttons.
According to one study, 40 percent of users will leave a site after just 3 seconds of waiting. If you have large PDFs weighing down your site, it's going to impact page speed. And on mobile devices, heavier pages increase the cost of bandwidth usage, which may make on-the-go visitors less likely to return to a site that includes bulky PDFs.
In looking at pdfs from a browser perspective one can conclude that rendering pdfs take just as much time as most web pages. Here's data to prove why you should keep it under 1 MB.
Example: Two page Warehousing Flyer with Images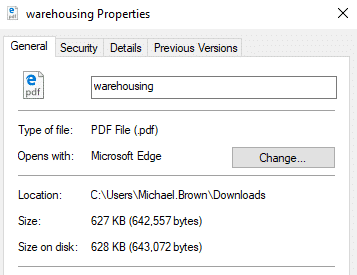 Example: Four page Canada Freight Flyer with Images

When performing a number of PDF tests I discovered that the length of file and number of pages didn't have anything to do with the page speeds. In fact, tests were run on PDF documents that were upward of 100+ pages and they still fell within the page speed of less than 3 seconds. Speed matters not only for webpages but for pdfs as well.
Site Speed Is a Significant Ranking Factor
Google is notoriously secretive about the detailed specifics of their ranking factors. Yet it is known that Google does take a website's page speed and size into consideration. Google also prefers that PDFs be rendered, indexed, and ranked similar to what's done with websites and all of the content that's directly on such pages.
Google has directly declared that page speed maters, saying in post:
A speedy site is a sign of healthy servers, so it can get more content over the same number of connections.
The Big G has also confirmed that site speed will be considered when mobile-first is fully implemented.
We also know that Google likes a good UX. And a fast site equals a good user experience. At least, it's a big part of what constitutes a good UX along with other important stuff like content relevance, links, and the basic mechanics of your website.
Page load time also affects your bottom line. According to research from Google-owned Doubleclick, sites that load in 5 seconds have 25 percent more ad visibility than one that load in 19 seconds. Sites that are faster also have sessions that are, on average, 70 percent longer, and bounce rates are 35 percent lower on faster sites. Page speed is equally important to consumers:
Nearly 50 percent of consumers expect pages to load within 2 seconds
More than half of all online consumers say site speed influences how loyal they are to brands
More than 20 percent of consumers will stop shopping on a site if they have to wait too long for pages to load
Website Size Has Gone Down Over the Years
In order to get an idea of what you should be doing with your PDFs, it helps to have a better understanding of why webpage speed matters. A good way to drive home the importance of optimizing PDF file size is take a brief look at the history of webpage size. Way back in 2010, the average webpage size was 702kb.
Very early websites were actually much smaller size. In fact, what's considered the first website was only 4kb in size. Today, the average webpage size is a whopping 2232kb. The reason for the massive increase is all of the things that are included in a typical website today, including such things as:
Videos
Images
Embedded social media
Social media feeds that show real-time activity
Live chat features
Throw PDFs into the mix and you can see how a website can easily become "heavy" and slow to load. It's possible to cut down on things like videos and images to include only ones that are absolutely essential or relevant to the content. But added size from programming languages like JavaScript can't be trimmed excessively, especially if you have a site that has animation, online forms that need validated, and tracking information that provides info to Google Analytics and other metrics sources. Ads on your webpages can also affect size and speed.
With mobile, website size can have a bigger impact on load speed. How a site loads on a mobile device isn't the same as what happens on desktops. 3G connections on mobile devices are 40 percent slower than the average desktop. This rate is about 12 percent for 4G connections. According to a sampling of more than 300 sites, nearly 90 percent of them delivered the same assets to all devices.
A website that's not optimized for mobile today is likely to be one that's slower. Since Google's mobile-first policy is set to fully rollout in 2018, anything that's affecting speed on smartphones and tablets is a potential problem. Even desktop users expect pages to load within a few seconds. Mobile users are a little more patient.
How Do You Optimize Your PDFs?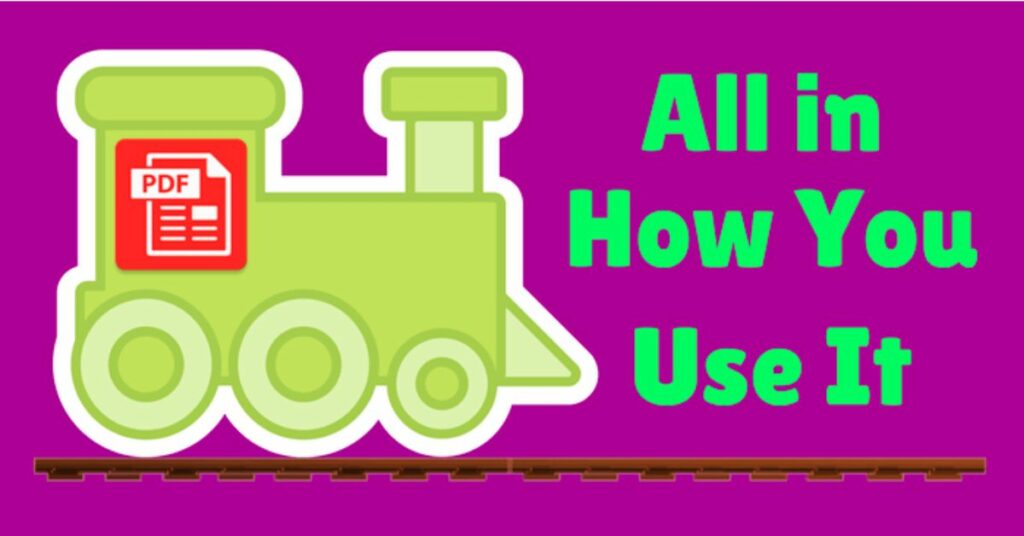 Before getting into what you can do to optimize your PDF size for Web, let's look at how PDFs can actually be beneficial. The purpose of files of this nature is to provide access to a lot of information that can't be easily presented directly on a website without making it way too text heavy. PDF file can be a good way to present:
E-books
White papers
Specification documentation
Content that's better read offline*
*If you're going to use PDFs for this purpose, make sure they're not being indexed by search engines.
Think about what kind of info your target visitors are likely to want to download as a PDF file. You could figure this out with A/B testing where you present two versions of the same where one has a PDF file and one doesn't. Check your stats and see if the one with the PDF is actually getting more attention to determine if you really need to include it. Another option is to make sure any PDF you use is fully optimized. I recommend the following steps to optimize PDFs effectively for maximum visibility and accessibility:
See if your PDF is optimized already: Open your PDF in Adobe Acrobat. Click "File' and "Properties." Look at the bottom of the "Description" tab. If "Fast Web View" says "No," then your PDF will need to be optimized.
Adjust your fonts: Use standard fonts or embed ones you want to use that are outside of the standard choices. Each font you use adds kbs, so try to use as few fonts as possible. Also, limit font sizes.
Optimize images: Use smaller, high-quality vector-based images or monochrome bitmap images if vector-based ones aren't available.
Save PDFs as "minimum size" when saving from Word: Ensure that your PDF is created in the smallest size possible when saving it from MS Word by selecting "minimum size" when clicking "Save As" and make sure "ISO 19005-1 compliant (PDF/A)" and "Bitmap text when fonts may not be embedded" are NOT checked.
Optimize PDFs in Adobe Acrobat: Open your PDF in Acrobat. Click "File" and choose "Other" to save it as an "Optimized PDF." Adjust your custom presets to optimize speed without affecting the quality of your PDF. Also, enable "Fast Web View" so your PDF pages will be downloaded one page at a time instead of all at once.
Use text-based files: Image-based ones take longer to download.
Give you PDF file a search-friendly name: This is similar to what's done with webpage URLs.
Optimize PDF content: Optimize the content of your PDF according to standard webpage optimize guidelines (e.g., use of relevant keywords, heading tags, etc.).
Be mindful of compatibility: Go a few versions behind the current version of Acrobat to minimize possible compatibility issues.
Optimize PDF properties: PDFs don't have "meta descriptions" like webpages, but they do have properties. Click "Properties" in Acrobat and go to the "Descriptions" tab. "Title Property" is similar to the title tag and "subject" is similar to meta description. Most of the other fields have no real impact on search results.
Link to your PDFs: Make it easier for searchers and search engines to find your PDFs by including links back to these files from your website (with relevant anchor text), social media pages, blog pages, and even in your emails.
Include an index: If you have a multi-page PDF, an index gives readers a handy reference point to see what's included so they can go to exactly what interests them.
How Do You Optimize for Overall Page/Site Speed?
There may be times when you can't keep your PDFs within 30-40KB. If this is the case, you can still take steps to keep PDFs from affecting page speed. My recommendation is to combine your efforts to optimize your PDFs as much as possible with other ways to minimize page and site speed, such as:
Enabling compression to reduce the size of CSS, HTML, and JavaScript files larger than 150 bytes
Optimizing CSS, JavaScript, and HTML code
Reducing redirects
Correcting "performance bottlenecks" that may be affecting servers (e.g., lack of sufficient memory, slow routing)
Using content delivery networks to distribute the load of content delivery
Correctly sizing and optimizing images and graphics
The main point here is that website visitors don't like anything that slows down a site and affects their experience while browsing. The solution is to be mindful of the things that may affect your website's speed without limiting access to the relevant content that can be included in a PDF files. Fortunately, there are reliable tools you can use to keep track of page load speed and many steps you can take to create an optimal PDF file size and make documents like this more user-friendly. And if you haven't yet considered a responsive website design, I'd recommend it. It's a way to keep your site and all of its content, including your properly sized and optimized PDF files, easily viewable to all users, no matter what screen they're seeing it on.
Are you using PDFs in a way that's actually helping your website produce better results and improving the user experience for your visitors? Share your thoughts and leave a comment.