Spirituality has become an increasingly popular topic in recent years, and more and more people are looking for ways to incorporate it into their lives. It can be an excellent way for business owners to create a more positive and productive work environment.
Here are some reasons why you should consider bringing spirituality into your business
It can help you attract and retain customers/clients.

Not only can it improve employee satisfaction, but job satisfaction as well.

It can reduce stress levels and promote creativity.

It can make your business more environmentally sustainable.
What is Spirituality
Spirituality is an individual's sense of relationship with a higher power. It's not just about faith; it involves acknowledging something beyond the physical world to bring meaning and clarity to life's myriad experiences.
Spiritual practices, such as meditation and prayer, are methods to connect with this spiritual journey and discover a sense of connection with the surrounding universe.
The question arises, "Why should you consider bringing spirituality into your business?"
Incorporating Spirituality into Business: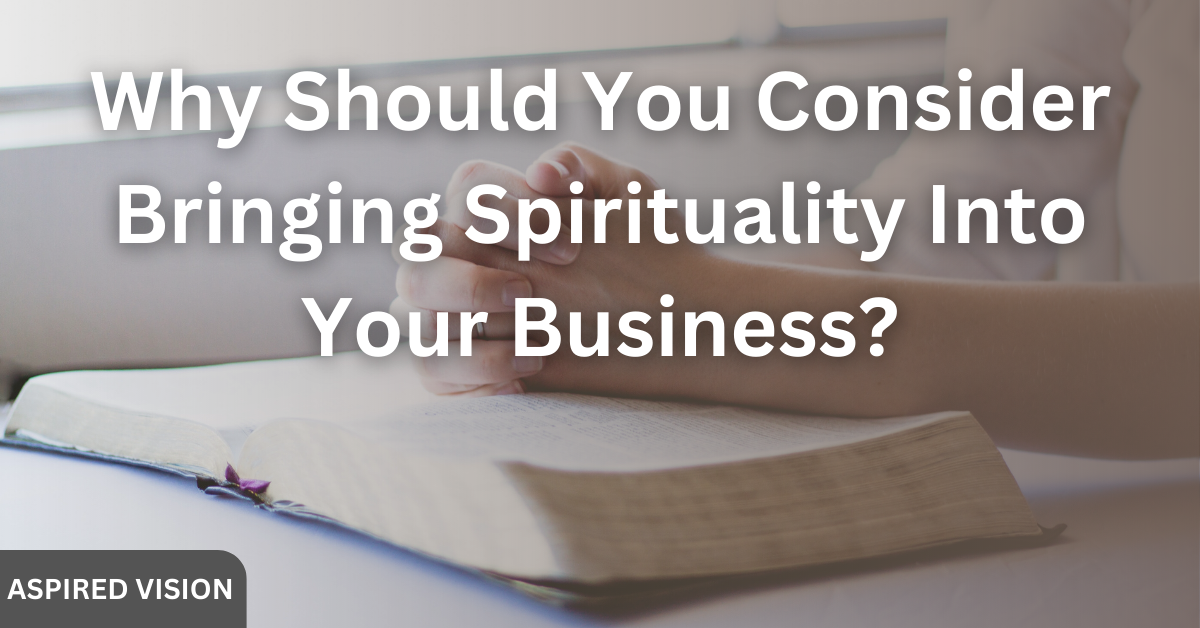 Spirituality can be incorporated into business in many ways. A spiritual approach may involve recognizing that your business has energy, purpose, and power—which can lead to organizational harmony, creativity and productivity. It can pave the way for more mindful decision-making, encourage employees to show their essence instead of external pressures and nurture collaborative working relationships.
Additionally, offering team meditation sessions or retreats can provide staff an opportunity for self-care and reflection, forming a connection between themselves and their professional and personal growth.
Ultimately, spirituality in the business allows individuals to ground themselves in purposeful work driven by compassion, respect for others' contributions, empathy towards one another's struggles and collective commitment to making work meaningful for everyone involved.
Incorporating spiritual values into business serves a practical purpose and fosters deeper meaning within the workplace. By introducing a spiritual path into the corporate landscape, you empower your employees. You create an environment conducive to establishing long-term loyalty amongst staff members, inspiring them to stay connected both professionally and personally within your organization.
Benefits of Spirituality in Business
Incorporating spiritual values into businesses is a fundamental part of the day-to-day operations. These practices attract more customers and raise employee morale while creating sustainable positive brand reputations.
Attracting More Customers
By integrating elements of spirituality and mindfulness into the business context, customers are more likely to feel appreciated and respected. It can encourage them to return, increasing customer loyalty and sales.
Improving Employee Morale
Spiritual practices can create a positive workplace atmosphere conducive to creativity and innovation. Being part of a spiritual or mindful community within the workplace can help employee retention, reduce stress and develop connection, which leads to increased motivation, morale and productivity.
Increasing Positive Brand Reputation
Building goodwill around a brand helps to attract more customers while strengthening relationships with existing ones. Spirituality encourages people to pay attention to their inner values. Hence, businesses have a better chance of reflecting values that their customers align with when incorporating elements of spirituality into their operations.
Spiritual Practices
Introducing more spirituality into the workplace can be a great way to achieve more happiness and increase employee harmony and productivity. Here are some tips on how to get started:
Meditating Before Meetings
Taking a few minutes before meetings to meditate can help set a calmer and more focused tone and allow everyone to enter with open minds. It can help improve problem-solving skills and increase productivity in discussions, leading to better business decisions.
Offering Employees Time for Spiritual Practice
As a business owner, allowing your employees time during the day for spiritual practice is essential. By doing so, they'll feel more connected, grounded and replenished, which are key factors in delivering great work.
Exploring New Ideas Together
Business leaders have found success in discussing different forms of spiritual practice and exploration in some offices. Many find exploring these topics and sharing stories with colleagues quite liberating.
Implementing spiritual practice into your workplace can be extremely rewarding, no matter what route you take. It will boost morale and create authentic relationships between team members.
It will also allow employees to recalibrate stress levels while still focusing on work, so they return energized rather than exhausted after work hours.
Businesses Successfully Integrated Spirituality
There has been a significant increase in businesses focusing on incorporating spiritual principles into everyday life, from organic food companies focused on providing sustainable products to mindfulness training designed to help people reconnect with their inner selves or souls.
Organic Food Companies
Organic food companies are some of the most popular businesses to integrate spirituality successfully. It is because their products are sourced from the earth, which is closely linked to spiritual practices.
These companies often use spiritual symbolism in their brands, such as circles and other symbols associated with nature and divinity. Whatever their approach, organic food companies are becoming increasingly popular across the globe due to their emphasis on bringing spiritual principles into their product offerings.
Yoga Studios
Yoga studios are one of the most well-known businesses to embrace spirituality. Most yoga studios focus on teaching classes emphasizing connecting to our inner selves or soul, improving physical posture and balance, and developing mental clarity and calmness.
As a result, they draw customers who seek a deeper connection with themselves and others in the yoga community. With an increasing number of people looking for ways to become more spiritually conscious in their everyday lives, yoga studios can be an ideal spot for those seeking that type of experience.
Mindfulness Training Centers
Another business trend that has seen incredible success due to its integration of spiritual practices is mindfulness training centers. Mindfulness centers focus on training participants in techniques like meditation and breath work, helping them access inner peace.
These centers also provide classes about lifestyle topics such as healthy eating habits or even stress reduction techniques such as aromatherapy. The goal is usually to promote a holistic approach to self-care based on ancient teachings and modern practices so that users learn how to reconnect with nature's rhythms through the mindfulness.
Incorporating Spirituality into Business
It's no secret that spirituality can positively affect people and their environment.
From boosting physical health to creating peaceful energy in the home, incorporating spiritual practices can bring about meaningful change. But did you know that introducing spiritual principles into your business can also result in increased success and productivity?
Benefits of Spiritual Business Practices
Introducing spiritual concepts into a business setting can have far-reaching benefits when done correctly. We may not always think about it, but each employee has unique values, beliefs and perspectives that help form our organizational culture.
By implementing spiritual philosophies such as mindfulness or compassion, business owners create an atmosphere of acceptance and respect where everyone is valued and able to thrive. This energy encourages individual creativity and collective, cooperative collaboration, resulting in innovative ideas, greater efficiency and better problem-solving overall.
The Path Ahead
Fostering a spiritually conscious workplace environment takes effort from both employers and employees alike—so don't delay! Starting small is often best; consider appointing a Spiritual Lead who can be responsible for activities like leading affirmation circles or mindfulness exercises during team meetings.
What are you waiting for if you haven't already incorporated spirituality into your business? It could be the very thing that takes your company to the next level. Not only will it help improve employee morale and attract more customers, but it will also give you a sense of purpose and fulfillment in your work.
To get started, try meditating before meetings or offering employees time for spiritual practice during work hours. For inspiration, you can also look to businesses that have successfully integrated spirituality, such as yoga studios or organic food companies. Remember, there are endless ways to incorporate spirituality into business, so find what works best for you!