Prayer is a powerful tool for achieving business success. For centuries, people have turned to prayer to obtain divine intervention and guidance in their lives, including all aspects of their work or business endeavors.
Whether you own your own business or work in someone else's, prayer can effectively secure blessings, guidance and favor from God, the ultimate success provider.
This article will explore how you can use prayer to be more successful in business.
Start with Faith: Believing in God for Business Success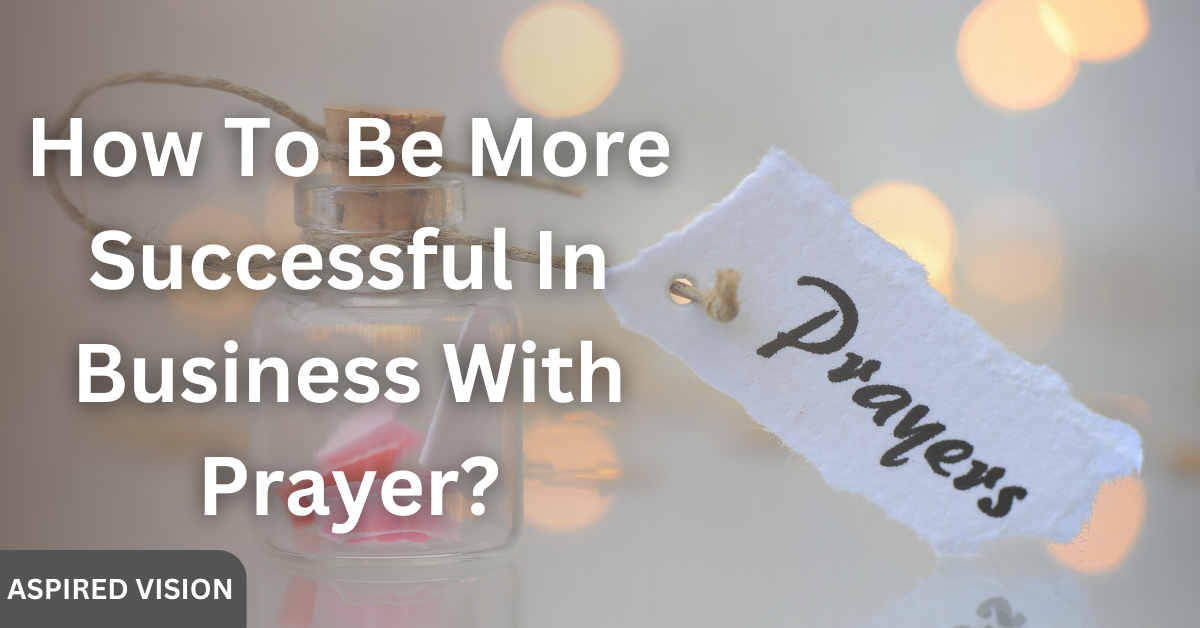 The first step in using prayer for business success is to start with faith. Believing that God exists and hears our prayers enables us to approach Him confidently with our requests.
We can also trust that His blessings will be given according to His perfect will, which may not be immediately apparent.
Faith in God's power and goodness gives us the courage to persistently pray for success, despite seemingly insurmountable obstacles or difficulties.
Our faith in God carries us through difficult times and ensures that our prayers remain focused on the ultimate goal of business success.
This faith also helps to keep us from falling into the traps of doubt, fear and discouragement.
Ask for Blessings from God
The second step in using prayer to achieve business success is to ask God for His blessings. Praying specifically for His guidance, protection, favor and blessing over all aspects of your business will enable you to tap into His infinite power and grace.
It is also important to remember that, while we can ask God for help with specific tasks or outcomes related to our business endeavors, it is ultimately up to Him how He chooses to answer our prayers.
Therefore, it is essential to approach God with humility, recognizing that His will is always best.
When addressing God in prayer, it is essential to remember that you are speaking to the highest power in the universe. Therefore, respect and reverence should be adopted when conversing with Him.
Invoke His Name
One way to ensure a respectful tone when speaking to God is by invoking His name. This can be done by using phrases such as "Dear God." The titles can help to evoke a sense of reverence and awe when addressing God during prayer.
It is also essential, to be honest with God when praying. Even if it might be uncomfortable, expressing our true feelings and concerns will help us build a stronger relationship with Him.
Tap into the Power of the Holy Spirit
Use the power of the Holy Spirit to help you in your business endeavors. The Holy Spirit manifests God's presence and power, and He can be called upon for guidance and assistance in any area of life.
Ask for His help daily as you run your business or engage in transactions with customers, vendors or other stakeholders.
The Holy Spirit will guide you in making wise decisions that will ultimately bring success to your business operations.
Be Open to New Opportunities and Deals
Prayer can also provide an opportunity to be open to new opportunities and deals that come our way. When we pray, we acknowledge that we are willing to accept whatever God has planned for us, even if it goes against our desires or plans.
This can be difficult, especially when we are adamant about our ideas and strategies for success in business.
However, it is essential to remain open to the possibility that God might have something better for us that we may not see at first.
Develop Gratitude and Humility Through Prayer
The most effective way to connect with God through prayer is by showing appreciation for the blessings you have already been given.
We open ourselves up to more incredible divine blessings and support by expressing gratitude for what we have.
Therefore, it is essential to focus your business prayers on expressing gratitude for all you already have; your customers, employees, suppliers, mentors, etc. You can also spend time daily thanking God for the abundance he has showered upon you and your business.
This will allow you to tap into a deeper spiritual connection and invite more good fortune into your life.
Claim Victory in Advance
Another powerful strategy to enhance the effectiveness of your business prayers is to claim victory in advance. This involves visualizing the outcome you would like to achieve and claiming it as if it has already happened.
Through this process, you are sending a powerful message that you have absolute faith in yourself and your abilities to produce wealth for yourself and others.
Focusing on what you want instead of worrying about the future will bring more positive energy into your life and create a greater chance of success.
Speak Affirmations To Increase Your Faith
The final strategy for enhancing the power of prayer for business success is speaking affirmations out loud before each prayer session. This can help increase your self-belief and belief in the divine, which is essential if you want to reap the full benefits of prayer.
Examples of affirmations that can be incorporated into business prayers include "I am fully supported by God in all my endeavors," "My faith is unwavering, and I will produce wealth today," and "God, bless me with abundance and success."
I am confident and determined to succeed in my business, and Lord, heal me with the courage and strength I need to make it through any challenge that may come my way.
These affirmations will help you focus your intentions more clearly on achieving success in your business.
Other Benefits of Prayer for Business Success
Successful business owners can testify to the many benefits of dedicating time to corporate prayer and seeking guidance from God.
Through regular prayer sessions, you can develop a deep bond with God, bringing spiritual, mental and emotional growth and enhanced business success.
Improved Clarity and Focus
The act of prayer can help improve clarity and focus, allowing you to make better decisions regarding business operations. Praying provides an opportunity to gain valuable insight and wisdom on handling certain situations or problems that may arise in running a business.
This improved clarity and focus will enable you to make sound choices that could lead to more tremendous success.
Deeper Connection
Praying can deepen your connection to God and allow you to build a strong relationship with Him. Through prayer, your faith will be strengthened, allowing you to have more complete trust in the Lord for guidance in making business decisions.
This genuine connection allows you to draw closer to God and receive His blessings from having complete faith.
Peace of Mind
The act of praying allows you to experience a sense of peace and calmness amid trying times.
Corporate prayer effectively reduces stress and reminds you that God is always there for you, no matter the challenges in your business life.
It also allows you to express your deepest concerns and worries to gain clarity and feel a sense of liberation.
Enhanced Relationships with Customers and Colleagues
The humble attitude developed through prayer can also help improve customer and colleague relationships.
By developing a greater appreciation for the support of others, we can create bridges of understanding and trust.
This helps foster better working relationships, leading to more collaborative efforts and practical problem-solving.
Increased Levels of Gratitude
The act of prayer can increase levels of gratitude in our lives significantly. When we take time to thank God for the blessings he has bestowed on us, it encourages us to remain humble while increasing our motivation and ambition.
This heightened appreciation can also bring positive energy into every aspect of our lives, including business operations.
Improved Mental Health
Finally, praying for business success can also profoundly impact mental health. The prayer process can help reduce stress and anxiety levels while providing a deeper level of calm and peace.
Regular prayer can help us move through life with greater inner strength and resilience, ultimately leading to improved business growth.
Business success prayer is a powerful way to increase your faith, gain clarity and focus, deepen your connection with God, boost mental health and enhance levels of gratitude. By dedicating time each day to prayer and seeking guidance from our heavenly father, we can unlock the potential for more tremendous business success.
Final Thoughts: How To Be More Successful In Business With Prayer
No matter the stage of success you currently find yourself in, business success prayer can be a powerful tool to help propel your business forward. It is essential to have patience and faith that God will guide your path and give you the best possible outcome.
Take time each day to dedicate some time to prayer and seek guidance from above so that you may experience the blessings of enhanced business growth and success.
With God on your side, anything is possible.