Many businesses are looking for a new and creative way to communicate with employees and clients. Email is no longer the best way to communicate with team members or with a customer base.
Slack may be the perfect solution for you if you're looking for a more efficient way to communicate with coworkers, clients or customers. Using Slack effectively can help improve communication and collaboration within your team. Give it a try!
Slack is available on both desktop and mobile devices, so you can stay connected no matter where you are. With Slack, you can create channels for different topics, send direct messages to other users, share files and images, keep track of your work, perform streamlined tasks and more. Slack integrates with many other apps to get your work done faster.
In this article, we'll look at some of the best ways to use Slack for business purposes. We'll also discuss some features that make Slack a powerful communication tool.
So whether you're just becoming familiar with Slack or looking for new ways to use it in your business, we will provide helpful tips on how to get started with Slack and make the most of its features.
What Is Slack
Slack works as an online collaboration tool that helps to improve communication and team collaboration in any business setting. This tool enables teams to communicate quickly and easily share files, videos, images, and documents with separate channels.
Slack provides a unified platform for all departments of a company to stay connected, collaborate efficiently and get their tasks done quickly.
Slack is an effective tool for instant messaging, team chat, arranging projects, keeping team progress in check and circulating important information across the entire enterprise.
Features Of Slack
Some main features of Slack are stated below:
Custom Notifications. You can customize your notification settings to ensure that you are alerted only to important conversations or messages. Moreover, Slack works as an instant messaging tool that helps you communicate quickly without wasting time.
Integrations. Slack has many integrations with other popular tools such as Zoom, Google Drive, Dropbox, Asana, Jira and more. Slack's workflow builder is a powerful tool for small businesses and enterprises.
Searchable history. Slack stores all messages, files and content on its servers. It makes it easy to search through past conversations and quickly find the information you need.
Channel Privatization. If you want to discuss anything personal/confidential with a client or team member, Slack provides you with a feature for creating a private channel.
Collaborative tool. Slack provides multiple collaboration tools such as task lists, polls and surveys for teams to use together. You can set personal reminders, too.
Who Needs Slack?
Slack is an important tool for businesses in today's fast-paced digital world. With Slack, you can communicate more quickly and efficiently with your team members, check project management systems and save time.
You can create channels where users can easily access and exchange information without searching through multiple emails or files. Communication is streamlined and centralized within the company.
Slack is excellent for both teams that are physically based in the same location and teams who are working remotely.
Slack Helps To Execute Your Business Strategy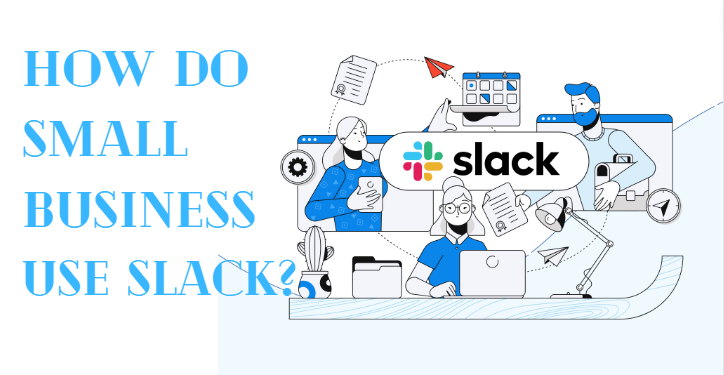 Slack undoubtedly helps business owners to improve and execute their business strategies. Some tips are given below:
1. Use Different Channels For Different Projects
Slack is designed to help you categorize your discussions based on tasks and distinguish between office chat and serious communication. While using the dedicated slack channel, invite the appropriate individuals.
2. Use Shortcuts
Slack users can use the shortcuts feature to make their experience much simpler on an as-needed basis, much like any computer software. Navigate to Slack on your Windows computer and press Ctrl + /; on an Apple computer, press ? + /.
3. Personalize Your Slack Interface
You can change the UI to your liking by accessing the preference menu rather than staying with the aubergine or red options. Alternatively, you might design your own using some Slack tips and options.
4. Make Quick Decisions Using Polls
Polls are used to allow team members to vote to reach a decision more quickly. You can get directions by typing /poll.
Is Slack Right For Your Business?
For small businesses, Slack is a powerful tool for staying on top of communication and tasks. By using Slack channels, small business owners can quickly create task lists and assign members to projects, keeping track of their activities and other programs.
For larger enterprises, the Slack Enterprise Grid provides a platform to connect multiple teams under one holistic workspace. Enterprise users will be able to keep track of projects, important messages, internal emails, tasks and conversations simultaneously.
Slack is a powerful tool for small businesses and enterprises that can help optimize business communication and workflow. Harness the power of Slack huddles to keep your teams connected, organized and on track for success.
Creating a Slack Workspace
Following are the steps briefly explained to create a workspace for Slack:
1. Create A Workplace.
Enter your email address on the Get Started page first. Go to Create a Slack workspace for step-by-step instructions. You will be the Primary Owner once your workspace has been set up.
2. Channel Structuring
The majority of conversations in your Slack workspace happen in channels. Channels can be made for offices, projects, divisions, private conversations or whatever else you wish. Select default channels and for the channel names, establish some standards to keep your channels organized.
3. Invite Visitors To Your Workspace
After setting up the essentials, inviting people to join is important so your workspace can come to life. Several methods exist for inviting new people to your workspace.
Send an invitation by email. Enter the email address of the person you want to invite along with the full name. You'll notice their name in your workspace as soon as they accept your invitation.

Send a link to an invitation. Make a workspace invitation URL that anyone can use to join. Four hundred persons can use each link at once.

Encourage signup email. Anyone with a recognized email address can register an account by enabling email signup.
4. Personalize Your Workspace With Apps
In the Slack App Directory, you can check apps for services you want to use, such as accounting software, tools for project management, payment, google docs and google calendar, and add them to your workspace.
Get Started With Your Slack Workspace
To get started with your workspace, you need to keep in mind that you become the primary owner of the workspace you create. Be sure to use an email address from your company's domain to set up your workspace if you intend to use Slack for business.
Channels
After setting up a workspace for your business, you can build various channels. Some examples of specific channels would be #business, #entire team, #marketing team, #direct message, #project channel or any title that meets your requirements for each division of the business.
As mentioned, Slack provides both public and private channels.
Everyone on your team can access public channels. By default, you will initially have two public channels in your Slack workspace—#slack works.
Within Slack, you can also build private channels—#private conversation. Private channels are for in-depth discussions among certain team members and specific group chats.
Direct Messages
Additionally, you can send direct messages to every coworker in your office. Direct messages are personal, one-on-one communications that resemble instant messenger services.
Notifications
Slack may notify you whenever you receive a direct message, or there is a message in one of your channels. It will highlight channels with unread messages by default in bold on the sidebar.
Sharing Links and Files
Sharing files with small teams, remote teams and other team members is incredibly simple using Slack. Files can be dragged and dropped directly into Slack. Even internet URLs can be copied and pasted into Slack for your team to access.
Enterprise Grid
The Slack Enterprise Grid is a feature that small businesses can use to access enterprise-level features from within the Slack platform.
Slack Pricing
Slack offers a Free version, a Standard and a Plus plan for small business users.
The Standard plan includes unlimited one-to-one calls, 10 app integrations, 5GB total storage and guest access.

The Plus plan includes unlimited one-to-one and group calls, 20 app integrations, 10GB storage per user and advanced security measures.

You can also try the free version, which includes 10 integrations with apps such as Office 365, Microsoft teams, Google Drive, Google Calendar, etc., audio and video conversations with screen sharing and screen recordings, and access to the most recent message history of 90 days.
Slack is a great tool for small businesses looking to increase their team productivity and communication efficiency. Small businesses can benefit from using Slack, creating channels, sharing files or having casual conversations.
The best way for small businesses to get started with Slack is by signing up for a free trial and exploring the features available on the platform.
We hope you found this article helpful. We provide business blogs to help you make your business journey as smooth and efficient as possible.