Trello is a project management software tool for the collaboration and productivity of large and small teams. More than 25 million users can be found on the platform worldwide.
Maintaining organization is a daily task for small business owners, as well as larger enterprises. In the hopes of assisting you in becoming more organized, we will explain the various ways you can use Trello in your small business. We believe it is an excellent tool for organizing multiple projects and organizations.
What is Trello?
Trello is a project management tool used by small and large businesses. If you want to boost productivity, organize projects, keep up with daily tasks, along with organize projects, then take a look at Trello.
Based on Kanban boards, Trello utilizes a visual method of overseeing a project's stages and activities from beginning to end. Knowing exactly what has to be done and how much of that task is completed at any given time is imperative.
If you already appreciate being organized, you will love it. But, if organization isn't your best suit, perhaps Trello can be of assistance. Give it a shot—it might change how you do things.
How is Trello Used in Business?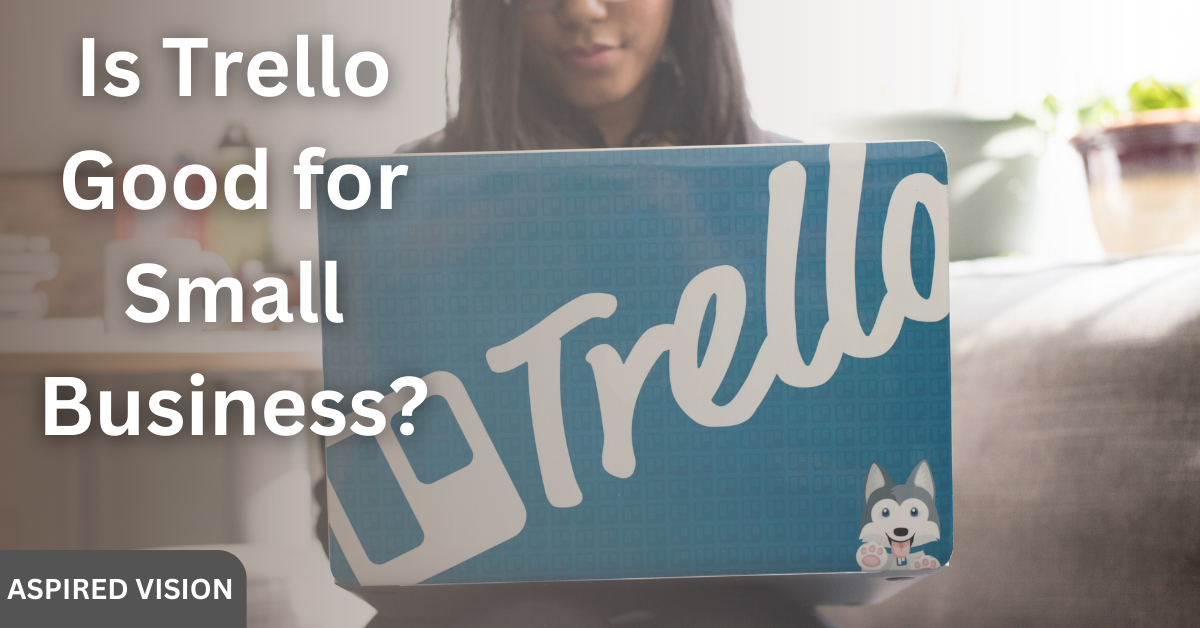 This is a fantastic tool for getting organized and staying organized. Trello helps you complete your work, whether its your business, a side project or even personal work.
Trello is beneficial for a variety of different business functions, For example, it can serve as a tool for project management, enabling you to keep tabs on the development of the project and perform unlimited command runs.
This platform offers ongoing tasks and processes, including monthly financial administration, human resource activities, daily tasks, training, personal projects, task management, free plans, sales, research and other services much more effectively than other tools.
Trello's visual planning tools help you organize and collaborate on anything. And, Trello keeps your company information private with intrusion detection.
You'll be able to promote team collaboration with the entire team. And, you'll be able to use Trello for personal organization and increased productivity.
We've all experienced the feeling of juggling errands at the end of a long day or week at work. You may feel overwhelmed. Use Trello to maintain a visual overview to see what needs to be accomplished, rather than keeping a mental or written list of personal to-do's.
What are the Crucial Integrations for Trello?
Trello offers 87 power-ups, or integrations, that enable you to use it with some of the top productivity tools available.
Listed here are some of our favorites:
Google Drive
You can attach or drag and drop documents, spreadsheets and entire folders onto Trello's cards with the Google Drive Power-Up.
Slack
You can send Trello cards to your Slack channels, establish alerts in Slack for activity on Trello cards and attach entire Slack conversations to Trello cards to make them actionable with the help of the Slack Power-Up.
Trello and Slack work together seamlessly to facilitate communication and cooperation.
Card Repetition
With the Card Repeater Power-Up, you can schedule repeatable tasks, such as weekly meetings, regular bookkeeping or password updates.
This power-up makes it so that any task you perform more than once, without wanting to duplicate the same card each time, will be done so automatically.
This makes it simple to work together on your papers and tasks simultaneously.
CloudApp
By making it simple to make GIFs, images, screen recordings and annotated screenshots, CloudApp enables you to communicate visually.
Trello and CloudApp allow you to suggest design changes with annotated screenshots and repair issues more quickly by using HD video screen recorders to demonstrate complex workflows.
Calendar
With the phone support calendar, you can view a visual representation of all your cards' due dates on a built-in calendar that syncs with all your devices. To update a card's due date, you can move it from one calendar date to another.
This significantly improves Trello's visual workflow.
GitHub
Developers and managers may start working in GitHub with just one click from a Trello card, attach requests directly to cards and link many GitHub repositories to a single board to stay on top of their commitments.
Users of GitHub can now work on several projects at once.
Benefits of Project Management Software with Trello Enterprise Plan
Trello is accessible right away after registering. You may sign up for free, and once you do, you can access practically all of its features. Although most crucial functions are accessible with the free option, it is also a paid service.
Trello adheres to the Kanban approach, a well-liked technique for achieving lean management.
Trello supports mobile devices. Its user-friendly UI closely resembles that of a smartphone application. The same functions available in the desktop program are also available in a general mobile application as project management apps.
You may view everything related to the project on one page as a big picture.
It's simple to add new members, create issues and allocate them.
Critical Trello Components or Trello Business Class
Trello was made intuitive so that almost anyone, including those without technical knowledge, could use it like other project management tools.
The following components will be present when you log in for the first time to Trello project management software:
A Digital Noticeboard. A Digital Noticeboard is utilized to monitor the team's workflow, projects and progress. Columns are provided for organizing the project's tasks and subtasks, to-do lists and team collaboration.
Lists. A series of columns is used to organize the project's subtasks for project managers.
Cards. Cards are the entry point for all of your tasks They may be moved from column to column, due dates can be added, they can be given to other team members and you can write remarks for one another.
Assignments. Assignments can be made to particular team members or sent to the whole team.
Timelines. With Timelines, it is possible to view the due date for all your projects.
Plug-Ins Called Power-Ups. Unlimited power-ups are utilized to enhance Trello's functionality.
Trello Board
You can organize all of your work on the boards that are provided by the collaboration tool. Each project can have its own board where you can delegate tasks to your team members.
There are cards and lists on each board. They are all about the allocated duties completed step by step. As you may only view one board at a time, making a different board for each project is strongly advised.
How is a Trello Board Created?
By using personalized onboarding assistance, you can build a Trello board by following these steps:
Step 1. Create an account first. Sign up for free or use the free version of the Trello Enterprise Plan.
Step 2. The Trello home screen you view after logging into your account looks like the one below.
Step 3. You will find a rectangle-shaped box labeled Create New Board inside Workspaces. To start a new board, click Create New Board.
Step 4. Use Board Title to give your board a name. Be specific.
Step 5. Next click Workspace under Visibility.
Step 6. As soon as you click Create, your dashboard and unlimited boards will be taken to where your board is waiting for you. You can choose custom board backgrounds.
Step 7. You can begin assigning tasks to your team or yourself once the Trello review board has been successfully created. Depending on the status you are in, the chores will be divided into to-do, doing and done categories.
How to Send Invitations on a Trello Board
Depending on how your board is configured, you might need to be an administrator to issue invitations via priority email support. A single click of the Invite button can add team members if there are no restrictions.
From your free Trello account, you may do a name search to see if the team member you want to invite already has Trello installed. You can enter their email address and select Send Invitation if they don't use Trello business class. You can also review restricted membership invitations.
Trello Pricing
Visit the official website to view the Trello pricing list and additional functionality anytime.
We hope you've discovered everything you need to know about Trello.
Trello offers straightforward data encryption, project management, a free plan, project management tools, priority support and project management software.
A user-friendly platform like Trello is the ideal choice for business owners who want to improve workflow procedures and increase productivity.
Have you utilized Trello? How did you utilize the platform? Tell us in the comments section below!