Summary: Google has issued a "code red" over the rise of the AI bot ChatGPT, The New York Times reported. CEO Sundar Pichai redirected some teams to focus on building out AI products, the report said. The move comes as talks abound over whether ChatGPT could one day replace Google's search engine.
Why Is Google Issuing A Code Red?
Google is issuing a code red because it believes that the root of their business model is in jeopardy. They are a search first company where they sustain their innovation by monetizing their search results. Google makes most of its money from advertising. In 2019, Google's ad revenue was $116.3 billion. This made up 86% of Alphabet's (Google's parent company) total revenue.
What Does A Code Red Mean For Google?
A Code Red is issued by Google when there is an issue with one of their services that is critical to users, or company revenue is forecast to be hit based on economic and/or market changes. This can mean anything from a major outage to lack of user interest. In most cases, a Code Red is issued in order to resolve the issue as quickly as possible.
Code red at Google means all hands on deck. Code yellow means it's ok to go home and sleep but it's still a serious situation. — Richard Hay (@WinObs) January 13, 2016
Why Hasn't Google Adopted AI More Aggressively In Search?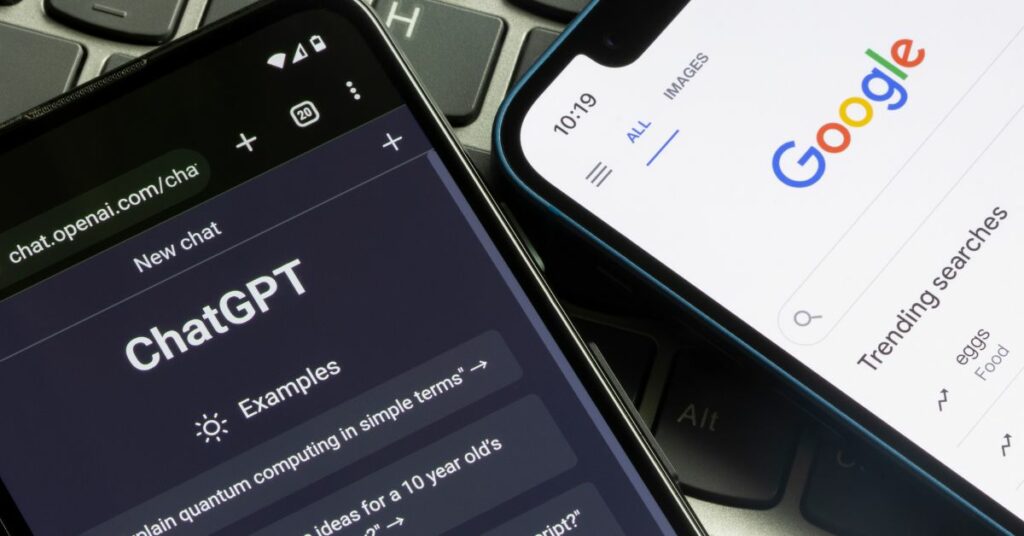 The hype around ChatGPT and other AI tools such as Jasper use a type of A.I. known as Generative A.I. Generative A.I. is a form of artificial intelligence that is able to generate new content, rather than just consume and interpret it. This type of A.I. promises to reinvent everything from online search engines to photo and graphics editors to digital assistants.
Ultimately, it could provide a new way of interacting with almost any software, letting people chat with computers and other devices as if they were chatting with another person. However, the big hesitation with tools leveraging Generative A.I. is that it could potentially hurt the reputation of said companies who use it.
In a world of already existing information overload, major search engines such as Google struggle with spam and misinformation. In addition to leveraging A.I. to produce inaccurate information, there is also the issue with producing hate speech, biases, and other toxic forms of content that many businesses have been legally warned against. In other words, Google has been working on Generative A.I. for quite some time now, but its modeling isn't producing the results they had hoped for.
Is It Too Soon For Search Engines To Leverage Generative A.I.?
The short answer, possibly. With A.I. it takes time and resources to build a model that is not only fast but is also accurate. In addition to the accuracy of information provided by tools such as ChatGPT, there are also limitations to the recency of information sourced.
When asked what's in the new ChatGPT update, the A.I. tells me:
"ChatGPT is a large language model developed by OpenAI that is trained on a dataset of conversational text. Since it's an OpenAI model, its updated regularly with new features and improvements. However, as my knowledge cut off is in 2021, I don't have the latest updates and I cannot provide you a specific information on which new features or improvements have been added to the model in recent updates."
With the rising concern of misinformation, biases, hate speech, and informational recency, one can conclude that there isn't enough computing power in the world that could fix those issues. It's ultimately up to how the Generative A.I. interprets information before presenting it. So it just might be too soon for the search engines of the world wide web to present factual information without bias, negativity, and recency top of mind (the A.I. mind that is).
If Not For Search Then What?
Where these technologies do best are in areas, you guessed it, where biases and information are more understood, predicted and accurate. I anticipate Google baking in Generative A.I. in all their other outstanding products to produce efficiencies in advertisements, big data, and much more. We are seeing more people adopt tools such as ChatGPT for programming, debugging, writing formulas, as well as translating content. All of which are more understood, connected to well known libraries, and have more of a logical backbone.
I'm rooting for an improvement to search results with some form of Generative A.I. but not at the cost of doubting the results. I'd rather continue interpreting the results myself, while knowing that eventually generative A.I. will make my research in search more efficient.