If you're new to G Suite, you might wonder how to get help using all the features. Luckily, there are lots of ways to get help! Google has documentation on all the features, which can be found here: https://gsuite.google.com/learning-center/.
In addition to documentation, there is contact support where users can find answers and get help from others. Finally, you can always reach out to a support window administrator if you need one-on-one assistance.
What is G Suite?
If you're looking for ways to better manage your emails, productivity, and collaborations without scrimping on time and resources, G Suite could be the way to go.
G Suite is a cloud-based suite of productivity tools that includes Gmail, Calendar, Drive, Docs, Sheets and Slides. It's designed to help businesses collaborate more effectively while enabling them to access their files from any device. Working with organized folders allows up to 30 users to work on one document simultaneously and provides access to your data from anywhere in the world.
G Suite's features let you quickly share documents across multiple users with just a few clicks, store and back up data in the cloud and access files from any device. With G Suite, businesses can create and collaborate on documents with their teams, track projects in real-time, and even host video meetings to stay connected while working remotely.
You can avoid becoming bogged down with mundane admin tasks. From emailing clients to setting up meetings and tracking progress, G Suite helps streamline operations, allowing you to refocus your energy on more big-picture goals. In short, it's the perfect technological solution that'll help keep you running seamlessly.
Google Workspace
It's an invincible asset for businesses of all sizes, enabling them to unlock their full potential. It provides admin, support and customer service teams with the ability to work collaboratively on projects and tasks.
Google Workspace Administrators
With Google Workspace, admin teams can quickly collaborate on documents, spreadsheets, and other forms of data. This makes it easy to keep track of project progress and streamline admin tasks. It also allows admin teams to store and manage files in one secure place, making it easier to access information when needed.
Google Workspace Customer Service
Google Workspace helps customer service teams respond quickly and efficiently to customers' requests. With its advanced communication tools, it can easily connect with customers, provide helpful solutions and ensure customer satisfaction.
Google Workspace Support
Google Workspace makes it easy for teams to work together in real-time, regardless of their geographic location. By enabling employees to share files, ideas and feedback quickly, Google Workspace helps support the creation of innovative solutions and streamlines collaboration across projects.
Google Workspace Contact
Google Workspace is a powerful tool that admin, customer service and support teams can utilize to work better together and improve overall productivity. Google provides 24/7 support for Google Workspace (formerly G-Suite) products included with a paid Workspace subscription.
You must log in to your admin control panel to access Google's Support. Begin by opening a browser to the Admin Console at https://admin.google.com and entering your Workspace Administrator account credentials for authentication into the system.
Then click on the "?" icon at the top right-hand corner of the screen. From there, select the Contact Service option available under the Help Assistant page. Common issues related to Workspace can also be reviewed here.
Resources Available to Help You With G Suite Account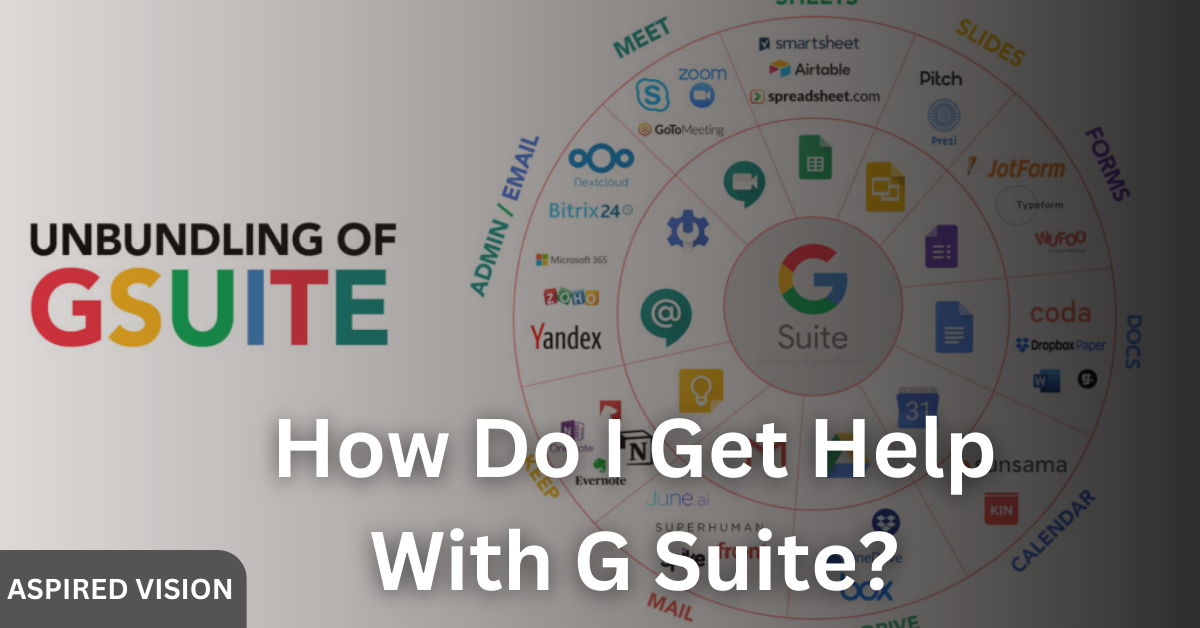 Are you new to G Suite or looking for ways to get more out of it? You're lucky! Many helpful resources are available to ensure your first foray into cloud-based office productivity is a breeze! With the right guidance, G Suite can improve your team's productivity and efficiency.
From information about suite support to tutorials on how to set up team collaboration projects, there's something here for everyone. Whether you are new to G Suite or an experienced user looking for ways to optimize the platform, you have come to the right place.
Helpful Information on the Website
Finding the information you need just got easier with G Suite! The website offers various helpful tools and resources, such as general google support, perfect for anything from a simple DIY project to work-related assistance.
Rather than aimlessly searching for an answer, contact google directly at G Suite's online Help Center. It will provide you with detailed information on all topics so you can finish your project in no time. But if reading is not your strong suit, the site even has YouTube videos that will explain how to use their services.
Contact Google Support Via Phone or Email
If navigating Google can seem daunting, rest assured that you're not alone! Whether you are struggling to understand a new device's basics or need more comprehensive troubleshooting assistance, Google Support is here to help. We offer a toll-free number to make it easier for you!
To ensure that you have all the answers and information right at your fingertips, we've developed a comprehensive knowledge base admin console with just a few clicks away. Don't let difficulty hold you back from getting the most out of technology—Google Support is here when you need it!
Google Support
For more technical questions or issues, Google provides a wide range of additional information and support resources on its website. This includes Help Center articles that walk through common questions about how to set up your account and domain settings to use google workspace tools.
Depending on your subscription, you can access a range of support options. Don't worry; no matter what plan you choose, there will always be a way for you to get the help that you need!
Third-party Consultants
If you feel you're in over your head while managing G Suite, there is no need to worry—outside resources are here to help.
With the advent of technology, third-party consultants are now available to assist users who want to increase the efficiency of their G Suite setup. These specialists not only understand how to use its tools and services, but can also offer advice on how best to utilize them for your company's specific needs.
These consultants save time for busy executives, while they ensure that everything runs smoothly as projects progress. Furthermore, specialized training sessions and workshops designed specifically for G Suite users can keep your organization up-to-date on all developments concerning its technology.
How do I get help with G suite? We hope you've gotten insight into G Suite through this article. It is an extremely helpful set of tools that can assist you with Gmail, productivity and other common issues. I
f you want to get started with G Suite, many resources are available to help you. You can search for helpful information on its website, in the online Help Center or in YouTube videos. If you need more help on product issues, you can contact Google support by phone or email. Additionally, plenty of third-party consultants can help you get the most out of it.