Traveling is incredibly important for entrepreneurs because it allows them to gain new perspectives, build relationships, learn about different cultures of a country and develop their businesses in unique ways.
Traveling is an invaluable experience for any entrepreneur that can make a huge difference in their success. If you're an entrepreneur looking to stay ahead of the curve, consider taking time to deal with and interact with your company investors by traveling.
Business Trips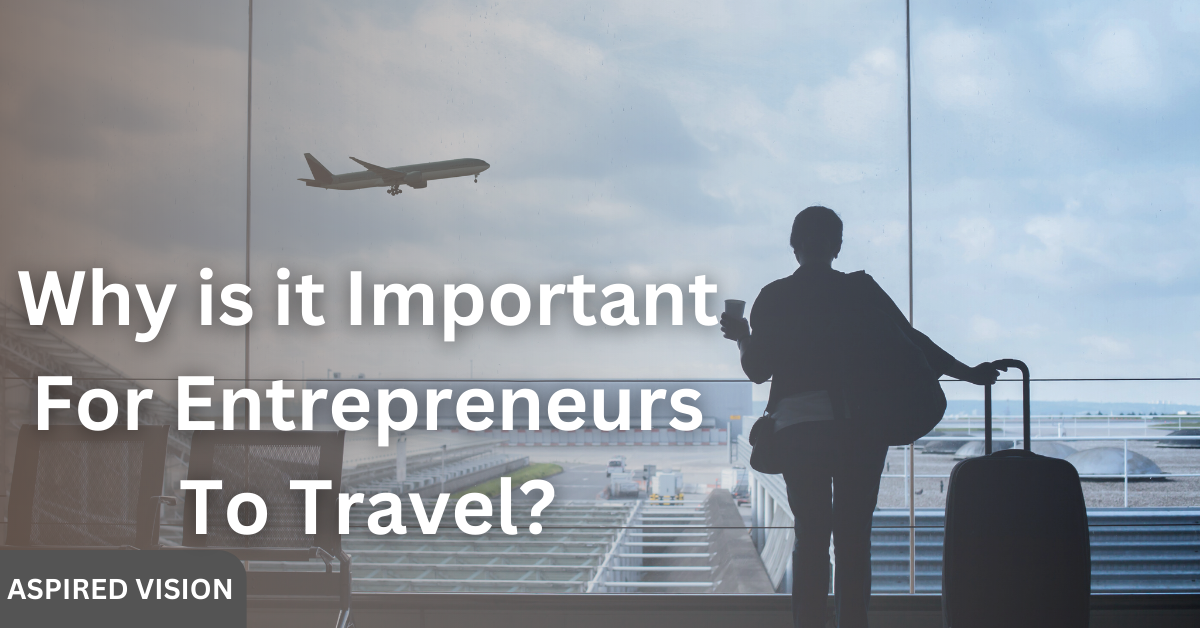 Business trips are essential to any entrepreneur's venture, as they allow them to explore new markets, meet potential clients and partners and gain valuable insight into different cultures.
Business travel can give a better idea to companies for expanding their knowledge and understanding of different countries and regions and acquire inspiration to gain valuable networking skills.
Encourage Creative Thinking
Business travel can help entrepreneurs think more creatively and brainstorm new ideas. It allows them to gain new experiences and perspectives, inspiring their thinking.
Traveling also allows them to look at things from a different perspective and provides them with a much-needed break from their daily routines.
Open Up New Opportunities
A business trip can open up new opportunities for entrepreneurs, both business-wise and personally. By exploring different parts of the world and immersing themselves in different cultures, entrepreneurs can gain knowledge into how other countries or regions operate and their markets.
This can help inform their decisions regarding new business opportunities and collaborations.
Boost Self-Confidence
When entrepreneurs travel for business, they are pushed out of their comfort zone, which boosts their self-confidence. Stepping outside of one's comfort zone forces an individual to confront challenges and grow in ways they wouldn't have otherwise, which can help increase confidence levels.
By developing resilience and problem-solving skills and learning to navigate unfamiliar environments, many entrepreneurs will develop the confidence they need to take risks and pursue new opportunities.
Reinvigorate Passion
Business travel can help entrepreneurs reconnect with the things that excite and motivate them. By exposing themselves to different places and people, entrepreneurs can gain a fresh perspective on their lives and the world. It is also an essential part of building a business.
Exploring new places and taking an interest in the life of local people teaches valuable lessons.
Provide Stress Relief
Business travel can be an excellent way for entrepreneurs to relax and relieve stress. It allows them to take a break from their hectic work schedules and recharge their batteries.
Exploring new places and engaging in activities that are different from their day-to-day routines can also provide a refreshing change of pace, which will help them stay motivated and productive when they return to work.
Broadened Cultural Mindsets
Business trips give entrepreneurs a broader perspective of different cultures, enabling them to become more open-minded and tolerant of other ways of living. It can be especially beneficial when expanding their business into new markets or working with clients from different countries.
Understanding different cultures can help entrepreneurs find new business opportunities and understand their customers' needs and expectations, enabling them to provide more effective solutions.
Traveling can help entrepreneurs deepen their appreciation for cultural diversity and broaden their mindsets.
Face-to-Face Meetings
Face-to-face meetings are an important part of business operations, allowing entrepreneurs to connect with their clients and colleagues more personally.
With face-to-face interactions with people from different countries and backgrounds, one will develop better communication with individuals from different backgrounds.
Additionally, traveling can help entrepreneurs learn how to build relationships with their potential clients and stakeholders, which is crucial in securing deals and partnerships. Ultimately, these skills will enable entrepreneurs to have more successful face-to-face meetings that lead to positive outcomes for the business.
Despite the convenience of video conferencing and Skype, nothing beats real-life human interaction in business relationships.
Entrepreneur Leadership Skills
Business travel helps entrepreneurs develop their leadership skills. By immersing themselves in different teams, entrepreneurs can learn to think broader and outside the box to lead people with different perspectives and beliefs.
Corporate travel can help build their confidence and resilience when dealing with difficult situations. This will help them become more effective leaders, as they will be better able to guide their team and handle any issues that arise.
Strengthen Communication Skills
Business travel can also help entrepreneurs strengthen their communication skills. By speaking with people in different countries, entrepreneurs will gain a greater understanding of other languages and cultures, enabling them to communicate better with people worldwide.
Additionally, traveling can help entrepreneurs gain more confidence when speaking to others, as they will be more familiar with different ideas and customs.
The long-run benefits of business travel are that entrepreneurs will be better equipped with the necessary skills to communicate effectively with clients, colleagues and other stakeholders in their business dealings.
Enhance Adaptability
Business travel can help entrepreneurs become more adaptable and better prepared to handle unexpected circumstances. By having the experience of traveling to different places, a person will be better equipped with the skills needed to adjust successfully to new environments and situations.
Additionally, they will learn how to make quick decisions when needed while dealing with people from diverse backgrounds. All of these skills are essential to running a successful business, and they will be put to good use when entrepreneurs face unexpected obstacles in their ventures.
Enhance Networking and Collaboration
Business travel can help entrepreneurs enhance their networking and collaboration skills. By building relationships with people from different backgrounds, entrepreneurs can learn more about different cultures and gain insight into how business is done in other parts of the world.
Enhance Problem-Solving Skills
Business travel can help entrepreneurs develop their problem-solving skills by forcing them to navigate unfamiliar territories and grapple with different challenges. These are skills they can also use in their business venture, enabling them to effectively manage problems that arise along the way.
Increase Productivity
Business travel can help entrepreneurs increase their productivity during and after their trips. Experiencing different environments and interacting with other cultures can stimulate creativity, enabling them to think more critically and develop innovative ideas for their business ventures.
Furthermore, taking breaks from office work can help entrepreneurs stay energized and productive when they return, providing them with a much-needed respite from their hectic work schedules.
Technology Adoption
Corporate travel can also help entrepreneurs stay updated with technology trends and advancements. By visiting different places and countries, entrepreneurs will be exposed to various types of technology used in these areas, giving them an idea of what is currently being utilized by businesses worldwide.
Why is it important for entrepreneurs to travel? Business travel is an essential part of any entrepreneur's success. It allows entrepreneurs to gain valuable insights into different cultures and markets and build networking and interpersonal skills. By traveling, entrepreneurs can also learn how to leverage new technologies to make their business operations more efficient while improving their time management skills.