The top business travel destinations vary depending on the type of business and industry. Commonly visited cities include New York City, Washington DC, Los Angeles, San Francisco, Chicago, Dallas-Fort Worth, Las Vegas, Miami, London, Tokyo, Beijing and Hong Kong.
Businesses may choose a specific destination based on the industry and type of business. For example, tech companies may decide to visit Silicon Valley in California or Seattle for their vibrant tech community. Other businesses may visit cities such as Paris or Milan for fashion-related activities.
Location matters when it comes to businesses. Here are some of the best places to visit.
North America
North America is one of the most popular business travel destinations. It is home to various industries, and many top-tier companies have headquarters in this region.
It has some of the world's leading cities, such as
New York
New York is home to some of the biggest names in business, finance and technology, so it shouldn't be surprising that it's an excellent place for entrepreneurs. New York has been named the world's best destination for a business traveler.
With many conference centers, co-working spaces, and other meeting spots around the city, there's no shortage of places for business travelers to connect with contacts or colleagues.
Once work is done for the day, many iconic attractions and landmarks make up New York City. From the Statue of Liberty to Central Park, there's something for everyone in NYC.
Los Angeles
Los Angeles is a great destination for business travel. The city offers plenty of potential for networking and professional development. The Los Angeles Convention Center provides an ideal venue for trade shows and an array of locations ideal for conducting business meetings or conferences.
Business travelers can enjoy sunny beaches, diverse culture and cuisine, world-class shopping and entertainment.
Chicago
Chicago is the ideal destination for a corporate trip or conference. The city is home to some of the world's leading companies, such as McDonald's, Boeing and Motorola Solutions, making it an ideal destination for business travelers.
The city center has numerous luxurious hotels to accommodate business travelers.
San Francisco
San Francisco is one of the leading business travel destinations in North America. It offers easy access to Silicon Valley, home to the world's most innovative tech companies.
In addition, there are plenty of cultural attractions, from the iconic Golden Gate Bridge to art galleries and museums in the city.
Phoenix
Business trips to Phoenix can be an enjoyable and productive experience. In the Sonoran Desert, Phoenix is a vibrant city with plenty of attractions for business travelers. The city has convenient access to Sky Harbor International Airport, other transportation options and affordable hotel accommodations. Its sunny climate makes it ideal for outdoor activities, including golf courses and other recreational activities.
The CityScape downtown area is a popular choice. Business travelers obtain lodging and attend events at the Phoenix Convention Center.
South America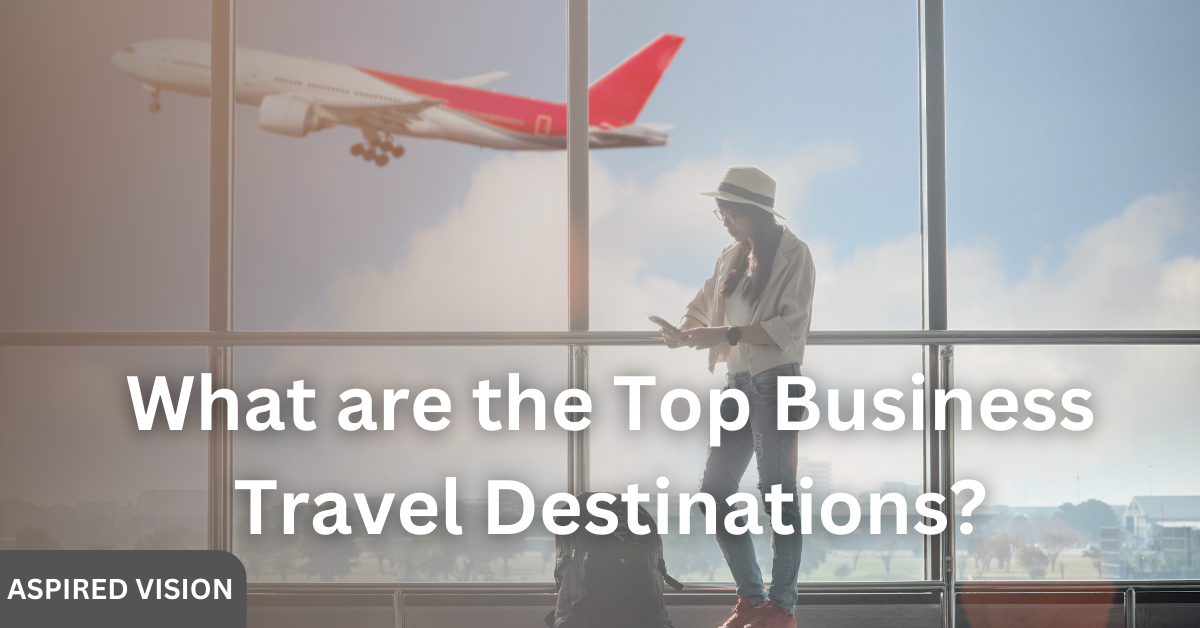 Business travel to South America presents a number of unique opportunities and challenges. There is a large variety of cultures and languages to explore, as well as many areas with tremendous business potential.
Europe
Europe is a popular business travel destination, with many top-tier companies having their headquarters in the region. From world-renowned museums and galleries in Paris to historic castles in Germany, there are plenty of attractions to explore. Business travelers can also take advantage of the expansive rail network in Europe, making it easy to get around quickly and efficiently.
London
London is a world-renowned city, often referred to as the Royal City.
As a significant financial hub, London has become a preferred destination for global conferences, events and other business activities. With easy access from all over Europe and the world, London is an ideal place to conduct business.
Paris
Paris is referred to as the City of Light, and it's no surprise that it remains a popular destination for business travelers. As one of the world's leading financial hubs, Paris is a great place to conduct business and host conferences, meetings and other events.
Berlin
Berlin is an increasingly popular business destination, offering many advantages for those looking to conduct business in the German capital.
Berlin is also home to some of Europe's best universities, making it an ideal place for business travelers to combine meet-ups and networking events with educational experiences.
Madrid
Madrid, the capital of Spain, is one of the most visited cities in Europe. As a major financial hub, Madrid has become an appealing destination for global business travelers.
With its vibrant culture, world-class restaurants and amenities such as Madrid Airport, it's no wonder that many come to this city on business trips.
Asia Pacific
The Asia Pacific region is one of the world's most rapidly growing economies with cities that are considered hubs for international business and finance. These Asian Pacific cities are ideal locations for conferences, meetings and events.
Tokyo
Tokyo is one of the most sought-after destinations for business travelers. As Japan's capital and largest city, Tokyo offers a wealth of opportunities for international conferences and high-level meetings.
Singapore
Business travel to Singapore is a great way to explore the vibrant economy of Southeast Asia. It is home to some of the world's most innovative businesses, including tech startups and multinational corporations.
With its unique mix of Asian cultures and international flair, Singapore is a truly unique place to visit for business and leisure. It is a major financial capital of the world, creating a positive environment for business companies to grow and flourish.
Latin America
Latin America is a vibrant, diverse region with a growing economy and plenty of business opportunities. Business travelers to Latin America can expect to be immersed in the unique culture and customs of the area.
From bustling cities like Rio de Janeiro and Mexico City to remote jungles in Costa Rica and Panama, Latin America is the perfect destination for business travelers looking to explore.
Mexico City
Mexico City is a vibrant and exciting destination for business travelers. Located in the heart of Mexico, it's one of Latin America's largest cities and a hub for international commerce and trade.
Business travelers to Mexico City can explore its cultural attractions, including ancient Aztec ruins and modern museums. The city is one of the world's most intriguing business destinations.
Caribbean Islands
The Caribbean Islands are a great destination for business travelers because they offer excellent transportation links and modern infrastructure.
The Middle East and Africa
Business travel in the Middle East and Africa is rapidly growing. Many business opportunities are being created as companies look to expand into new markets. Companies worldwide invest heavily in this region, creating an ideal environment for business travel.
Middle East and African cities offer a diverse selection for business travelers. Popular destinations include Dubai, Abu Dhabi, Cairo, Casablanca, Doha, Johannesburg, Nairobi and Riyadh.
Dubai
Business travel to Dubai is a fantastic way to experience the economic and cultural diversity of the United Arab Emirates. As one of the world's leading business hubs, Dubai provides access to key markets in the region and beyond.
The city offers state-of-the-art infrastructure, excellent transport links, an international airport and a wealth of business opportunities.
Abu Dhabi
Abu Dhabi is the capital and largest city of the United Arab Emirates (UAE). It is a dynamic business hub with plenty of opportunities to explore. Business travelers can benefit from Abu Dhabi's strategic location, modern infrastructure and ease of access.
Cairo
Business travel to Cairo can be both exciting and intimidating. Home to the world's oldest civilization, Egypt has long been a destination for travelers searching for culture and adventure. Despite its ancient roots, modern-day Cairo is energetic, with bustling markets, diverse cuisine and lively nightlife.
Doha
Doha, the capital of Qatar, is an attractive destination for business travelers. Located on the east coast of the Arabian Peninsula, Doha boasts a vibrant economy and has the world's largest oil and gas companies. Its strategic location between Europe and Asia makes it an ideal meeting point for international businesses.
Professional consultants and interpreters are available to assist with day-to-day tasks. Additionally, various business centers throughout the city offer modern amenities like conference facilities, meeting rooms and high-speed internet access.
Explore Popular Sites Across the Globe
Business travelers can also find a wealth of other popular destinations from all around the world. These include Bangkok, Beijing, Hong Kong, Singapore, Istanbul, Philadelphia, Phoenix, Rio De Janeiro, etc.
Each city offers unique attractions, excellent transportation and accommodation options for business travelers. With their rich cultural heritage and diverse interests, these cities will give business travelers an unforgettable experience.
Tips for Planning Business Trips
When planning a business trip, it is important to consider the duration of stay and budget. Planning will help ensure that travelers have suitable accommodations and transportation options during their trip.
Additionally, research should be done on the city's attractions, cuisine, culture and shopping districts to make the most out of the trip.
Travel insurance is also highly recommended when traveling abroad for business. It will protect you from unforeseen events such as illness, lost luggage, flight cancellations or theft.
What are the Top Business Travel Destinations? discusses locations and tips for business travel. Business travel can open up a world of opportunities and experiences. While it is important to plan travel costs, research the destination and consider taking out travel insurance, business travelers can enjoy a smooth and safe journey by exploring the fantastic attractions in popular destinations worldwide. Enjoy your business trips!