Organic CTR or click-through-rate refers to the percentage of clicks back to your website that come from organic search results. It's important to note that this type of CTR does not refer to clicks generated by paid ads, which show up just above organic results on Google's search engine results pages (SERPs).
Given the fact that more than half of all organic search clicks go to the first link, it's a good idea to shoot for a high placement on SERPs if you want to get a high CTR. Just be aware that changes Google is making with its search results can impact your organic CTR results. Here's a closer look at what you'll want to be mindful of as you plan your organic search strategy.
Search Ads Are Less Prominent
Paid ads still get top-page placement on Google. However, they're not as prominent today on SERPs. This doesn't necessarily mean your organic links will get more attention, it just means Google is trying to make paid ads less obvious so searchers don't automatically scan past them. This also means that paid ads are more "native" in the sense that they blend in more with organic results.
With CTR, Organic Still Dominates
The good news is that CTR that's organic still dominates on both mobile and desktop screens. In fact, it's 10-times bigger than paid CTR on mobile devices and 20-times bigger on desktops. The not-so-good news is that organic is trending down.
Even though Google puts the spotlight on its paid ads since PPC is a big chunk of their revenue, the impact on organic click-through-rates is still minimal. Here's the proof:
Mobile: For every 100 mobile searches performed on Google in September 2018, there were nearly 40 clicks on organic results, but only 3.4 clicks on paid results.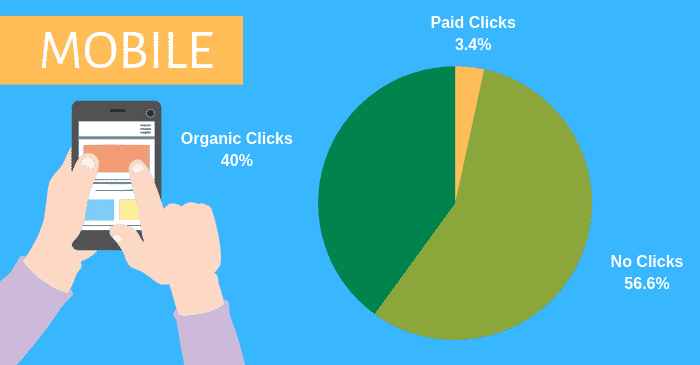 Desktop: For every 100 desktop searches on Google during the same time period, there were nearly 60 clicks on organic results, but only 3.7 paid clicks.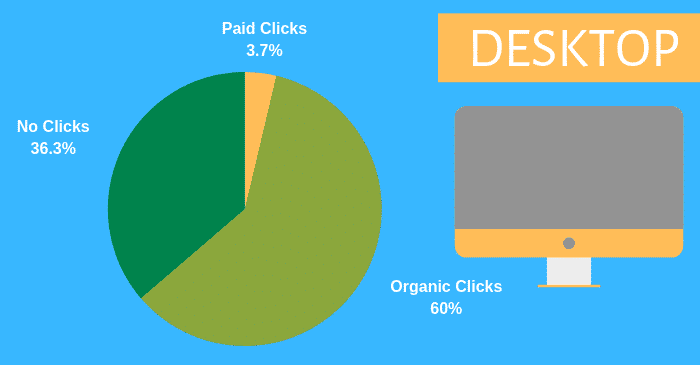 SERPs Are More 'Cluttered' with Visuals
If you look at Google trends from 2016 to 2018 alone, one of the things you'll notice is the increase in visual content that shows up on SERPs. This includes things like product images, videos, and other related visuals.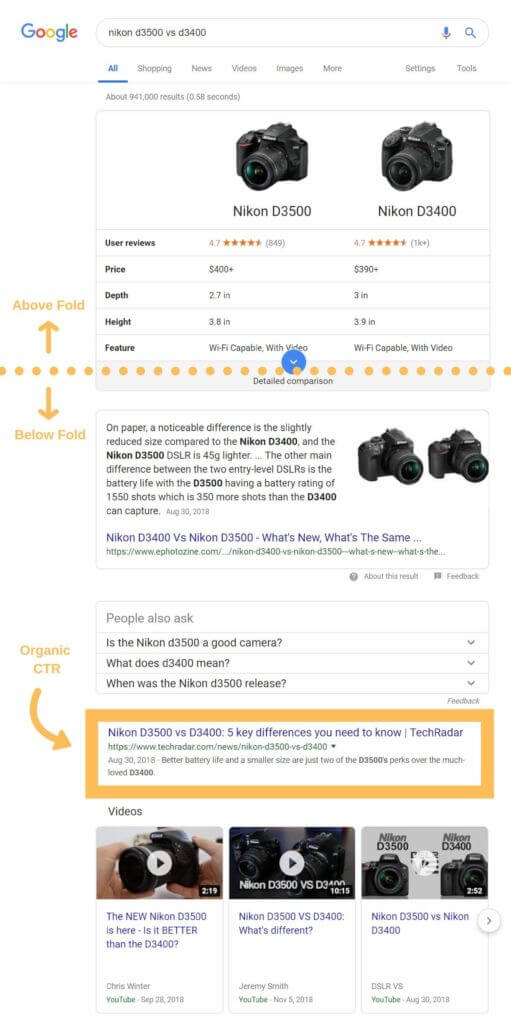 But this doesn't have to be a bad thing. In fact, you can use the increase in visual content on SERPs as an incentive to explore your options with visual content that's relevant to your brand, services, or products. Video results appear for 1 in 3 search queries and they alone have a 41 percent higher CTR than plain text.
As for what type of organic video content is likely to generate clicks, the short answer is anything that's produced with your target audience in mind. It's predicted that video will soon account for about 80 percent of all Internet traffic.
So visual-related content is a potential source of organic clicks you don't want to overlook. You'll be more likely to get a boost in organic clicks with:
• Video content with a thumb image that quickly catches the searcher's eye
• Videos that directly reinforce accompanying text
• Video content that actually looks good – e.g., lighting, steadiness of the camera, etc.
• Videos that are properly optimized
Zero-Click Searches Are on the Rise

A zero-click or no-click search occurs when an online searcher finds what they're looking for without the need to click an ad or a link back to a website. A good example of this is if a searcher types in "ABC Pizza Company address" and views a listing that shows the desired address along with a few other fast facts about this place. They've already learned what they wanted to know, so they're off to get their pizza!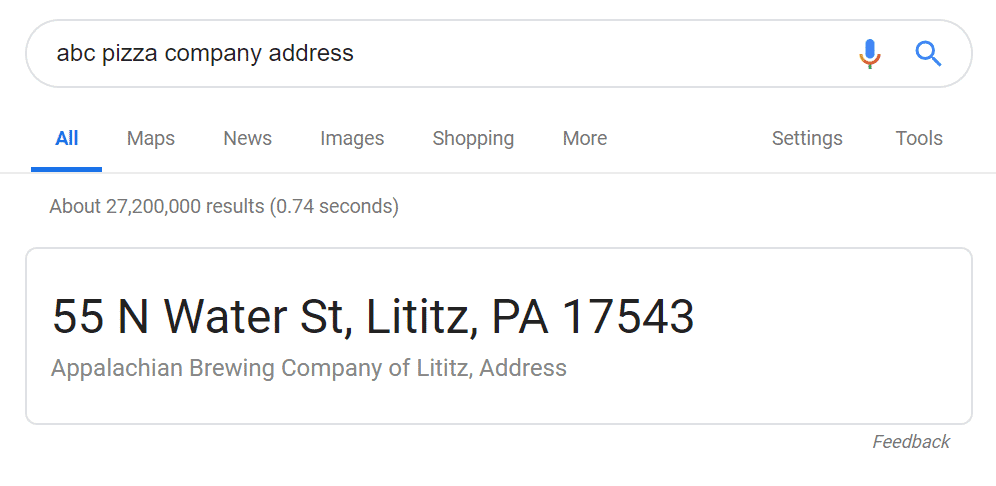 But why aren't people clicking as much on SERPs? One of the top reasons is because of things like Google's "People Also Ask" feature. In other words, searchers are given more info and opportunities to interact without the need to click.
Featured snippets also provide blurbs of info that sometimes satisfy searchers quest for info. Google also feeds the need for info from one convenient results page with SERP features that include:

Knowledge panels/graphs
Reviews and star-ratings
Local packs – Google shows the top 3 local results
Top stories
Twitter activity
Medical panels
Carousels – a type of revolving content feature
Steady Rankings, Lower Traffic
On a related note, the fact that Google is giving searchers more info on SERPs can produce some odd results. For example, you might have a ranking that's either holding steady or even increasing but you are getting less traffic back to your website.
Results like this can absolutely be frustrating, but there is a bright spot. With the right strategy, Google can still be an excellent and budget-friendly way to drive organic traffic back to your various webpages!
Overcoming Zero-Click Search Trends
So, what can you can you do about the boost in zero-click searches? One option I recommend is what's termed "on-SERP SEO." This means increasing the overall influence your brand has on search engine results pages so that content related to your business shows up on more prominently.
If your main goal is convince searchers to actually click, however, I suggest the following tactics:
Prioritizing your keywords with the highest CTRs – Keyword Explorer is one of several handy tools you can use to do this.
Adding incentives for searchers to click links related to your featured snippets – e.g., using a compelling hook that makes them want to click to discover more, or purposely not providing all of the info in your snippets
Growing branded search demand via other channels.
Boosting your brand's recognition so searchers will be more likely to click when they see your organic search results.
Purposely targeting searchers likely to prefer more in-depth results and not just superficial or basic results.
Another option I recommend is to purposely target phrases that have fewer SERPs results with an assortment of features. Typically, these phrases are longer search terms with lower commercial intent.
Answer the Public is a great tool you can use to find what longer search terms (in the form of questions) people are using to find info related to your business online. Some other organic click-through-rate-boosting tactics to consider include:
Exploring semantic SEO
Collecting People Also Ask (PAA) questions
Growing your email list so you're not entirely dependent on SERPs for clicks and website interaction
Guest posting/blogging to boost the visibility of your content
A/B testing content to see what produces better organic clicks
Now that you have a better idea of how Google's most recent adjustments can affect organic click-through-rates, use these new insights to focus your efforts on content more likely to generate meaningful clicks. This being said, be aware that other factors can affect your organic CTR rates as well, such as the quality of your related landing pages and your choice of keywords. Feel free to share your thoughts on this topic.