Google is on a mission to create the ultimate user experience with search engine results pages (SERPs). One of the ways they're doing this is by embracing machine learning to produce more specific results, which is what you'll get with many search queries these days. Typically, search results now include things like featured snippets, local business listings, and People Also Ask (PAA) boxes. If you're not familiar with PAAs, you could be overlooking a great source for content discovery.
So, What Are PAA Boxes?
Do a quick search on just about anything, scroll down, and you'll likely find the People Also Ask box associated with the results. For instance, let's say you're in search of some info on chocolate. After you get past the business listings, you'll see Wikipedia's page for chocolate followed by a People Also Ask box. In this case, it includes questions such as "What is the healthiest chocolate to eat?" and "What is best chocolate in the world?"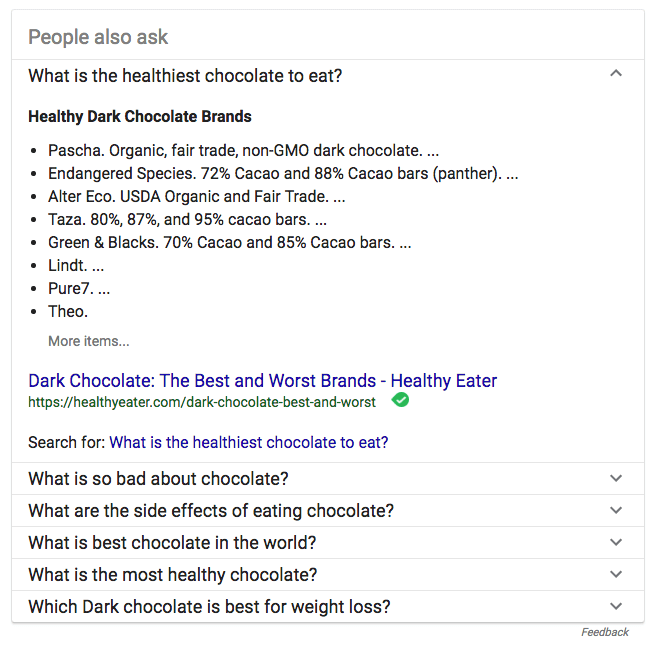 And if you expand each question, you'll see answers (which are usually pulled from various webpages). Click "more" and you'll either see related questions and answers or links to webpages with more info. Do this for "What is best chocolate in the world?" and you'll be taken to a National Geographic article on "The 10 Best Chocolatiers in the World."
Seeing the potential yet? If not, then stick with me as I share some insights about how you can leverage the questions in PAA boxes to make your own content more appealing to your intended audience and more visible to searchers.
Why Do PAA Results Matter Anyway?
These answer boxes are important for any businesses that depend on digital marketing for several reasons. First of all, about 40-60 billion searches happen on Google every month, so a lot of people are seeing these boxes. Also, 75 percent of users never click past the first page of search results, so if you manage to get content that's included in this SERP feature, you could get a big boost in visibility!
Let's back up for a second and talk a little more about the People Also Ask feature. When first launched in 2015, this Google SERP feature typically showed a few related questions. In 2017, these boxes became "dynamically loaded," meaning searchers now get access to even more questions based on what particular question they click.
Going back to my chocolate example, clicking "What is the healthiest chocolate to eat?" will give you access to questions about dark chocolate and weight loss and a bunch of other related topics. And with each question that's clicked, even more related questions pop up. So, it's like a big domino effect that basically continuously refines results based on what a searcher is interested in.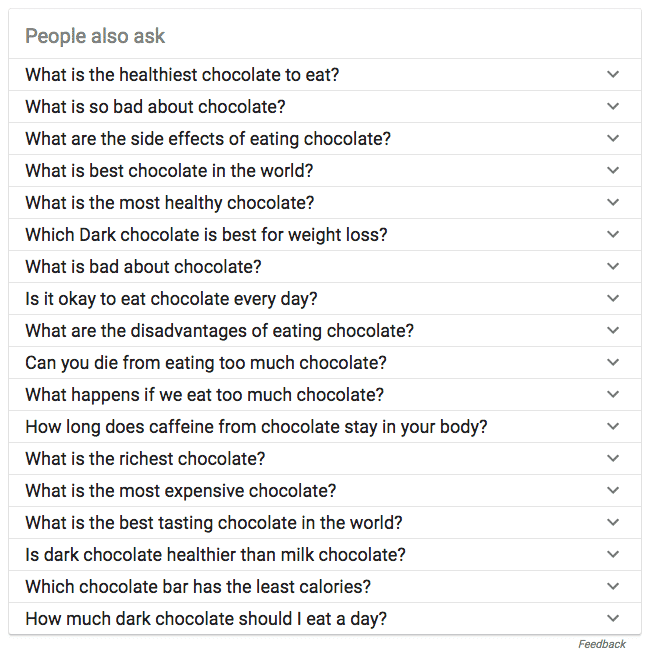 Now that I've explained more about PAA results and how they work, here are the specific reasons why they matter:
Since 2015, PAAs have had tremendous growth (up more than 1,700%!)
Featured snippets, on the other hand, grew more than 300% in the same time period
Infinite PAAs are live (on U.S. SERPs), so you can see real-time search trends
Just one single PAA can show up in 21 unique search engine results pages – seeing the potential now?
More than 50% of mobile SERPs in the US will display a People Also Ask box
Leveraging These Questions for Your Own Site's Content
PAAs are an example of machine learning in the sense that Google is using real-time search behavior to determine what types of questions to present in the boxes where these questions are displayed. Yes, this means will likely spend more time on a single query instead of performing multiple ones. However, this could still be good for your business if you've successfully leveraged commonly asked questions for your site's content.
Adjusting Existing Website Content
One way to take advantage of PAA results is to see if you are on the right track with the content already presented on your website. For example, let's say you have a few pages on your site that aren't performing all that well. Perform a search query specific to the topics covered on your low-performing pages. If the PAA results aren't in line with your existing content, consider it a sign that what you are presenting isn't as relevant as you thought it was. If this is the case, some of your options include:
Making minor content tweaks: The reason for lackluster results may simply be that you're not providing enough info on more in-demand topics, If this happens to be the case, you should be able to beef up a few paragraphs or add supplemental content in the form of video or a well-designed infographic.
Completely redoing pages: If you have an older website, it's possible that some of your pages may simply no longer be relevant to what people search for in relation to your business. If this is what's happening, you may be better off starting from scratch.
Building Content from People Also Ask Boxes
A common problem businesses have with website content is coming up with ideas. A good way to use PAAs for this purpose is to search for "best" queries (e.g., "best fall jackets for men," "best running shoes," "best car accessories for 2018") related to your products or services. Use the results to provide answers to the top questions asked related to what you actually offer.
For instance, you might create a landing page for your fall jackets for men that says "the best fall jackets for men on sale now" and then list unique features that make your jackets "the best." You can even break it down further and have subheads that list "the best fall jackets for men under $100" to increase your odds of showing up for queries where people are concerned about price.
Getting Long-Tail Keyword Ideas
Long-tail keywords are groups of related words or terms. PAAs are an excellent source for keywords of this nature because results show full questions real people are asking. Just pick the groups of keywords relevant to your business to get inspired.
Refining Your Sales Process
PAA responses can also give you an idea of common customer problems that may be preventing some visitors to your site from taking the desired action. You might, for example, use PAA suggestions to proactively address common objections or hesitations your intended customers have in your content.
Creating Content from People Also Ask Results
Now that I've discussed PAAs, let's focus on just how you can create awesome content with PAA results. Incidentally, question-answer content can be a great way to build links, so it's definitely not a tactic to overlook. Here are five easy ways to generate some buzz-worthy content from PAAs.
Make a list of 10-15 relevant PAA questions: Not all queries will produce PAAs, but if you use variations related to your business in some way, you should get enough results to come up with questions.
Choose higher value results: Go through your list and select which questions you'll answer with your content. I'd recommend focusing on more challenging questions since there's usually less competition for content that answers harder questions. If you do go with more basic questions, make sure your content provides something substantial.
Thoroughly answer questions: Don't just devote a few sentences to your answers before switching topics or going into your sales pitch. Besides, you'll get better results with your content if you fully answer your selected questions. Plus, searchers will likely view your business as a source of valuable information if you go in-depth.
Promote your content: After you've written your awesome PAA-based content, find ways to promote it (e.g., links from your social media pages, references in your email newsletters, or strategic keywords to help with organic results).
Track results: Lastly, keep track of important stats related to your content to determine if you're on the right track (e.g., backlinks it generates, social media mentions, webpage visits, lead generation, clicks, conversions, etc.).
Tools for Finding Popular Questions and Topics
You don't have to rely solely on PAA results to tap into trends with questions and keywords for your content creation efforts. Answer the Public is an excellent, free resource for finding questions popular with searchers you can use in your content. Enter your preferred keyword topic (don't forget to change the country to U.S.) and it will show you a visual representation of all questions being asked that relate to your search topic.
Moz's Keyword Explorer has a "questions only" filter that can come in handy. Moz also has MozBar, a free SEO browser add-on you can use to see what's going on SEO-wise your website's pages. Use the On-Page Content Suggestions to get topic ideas.
Here is a video I did on a free scraping tool that you can use to scrape a number of related questions.
Final Thoughts
PAAs can provide some very valuable insights on what types of questions people are asking in relation to your business or the products and/or services you offer. This can give you a better idea of what to include in the content on your various webpages and any of the other places where you may present content online.
And if you happen to offer the right kind of useful, relevant content that answers common searcher questions, a PAA box just might include a link back to one of your website's pages, an action Google views as a sign your content has value. Making PAAs work for you is going to take some effort, but the main thing you'll need to do is stay in tune with what matters most to your intended audience.
What do you think about PAA answer boxes? Do you find them useful yourself? Do you think your business would benefit from providing easily accessible answers to questions people commonly ask online? Feel free to share your comments!