Many organizations have faced difficulties during the past months, but none of them have been affected more severely than small business. Almost every area of how business was conducted had to change, frequently without access to necessary resources.
Small businesses must find tailored solutions to meet their needs to succeed in this "new normal" because the world isn't returning to the "old" way of doing business. Microsoft Teams is one of the solutions.
Microsoft Teams has more than 270 million monthly active users worldwide, including large enterprises and start-ups. Small firms heavily use cloud-based collaboration software like Microsoft Teams in the retail, hotel and other sectors. It's a terrific tool for all sorts of businesses, but it's especially useful for small enterprises that lack resources and require assistance with task organization.
Introduction To Microsoft Teams
Microsoft Teams is where all of your teamwork in Office 365 takes place. All your team's conversations, documents, file sharing, interactive meetings, group chats, video calls and apps are housed in a shared workspace that is portable on your favorite mobile device. Whether you're trying to make a deadline or brainstorming your next big idea, teams can help you accomplish more.
Instead of mixing audio and video conferencing with several team collaboration tools, Teams gives you everything in one integrated digital workspace. Regarding performance and the range of conferencing and collaboration tools offered, other collaborative platforms can't match it.
Why Is Microsoft Teams Important In Business?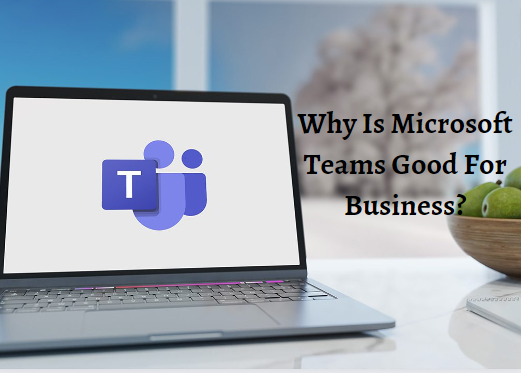 Microsoft teams have various benefits, especially for small businesses. For small companies who want to improve their growth and standard, Microsoft Teams is an all in one solution.
The Level Of Productivity Grows
With built-in document retrieval, Microsoft Teams is a fantastic tool that boosts productivity and aids employees in maintaining focus on a particular project.
Enhanced Communication
You can use Microsoft Teams to lessen delays between groups who cannot read an email. The team members engaged in a certain task are the only ones with secure access to that project.
Make Your Workspace Your Own
The fact that you can quickly import preference settings to programs other than those in the Microsoft family is a huge advantage. For example, Twitter is just one of the social networking sites that may be modified for your workplace.
Robot Assistant
One advantage of employing Teams is that a robot that offers assistance will seem and act like any other person. To answer the majority of typical questions, bots include T-Bots.
Notifications
You can always check your email without being overwhelmed when using Microsoft Teams. The activities and chat windows, along with every Like and suggestion is highlighted. You can set notifications for both audio and video calls.
Real-Time Document Collaboration
Microsoft Teams offers an easy way to collaborate on document work like file sharing, creating team channels and scheduling meetings. It could happen simultaneously with the users of the company.
Security in Microsoft Teams
Teams utilizes a combination of multi-factor authentication and secure guest access. The operating systems provide built-in data protection to reputable corporations at high levels.
Is Microsoft Teams Good For Business?
With Microsoft Teams, small businesses, from retailers to professional services, could easily connect, work together, communicate and provide new services to customers. With this all in one solution.
Affordable communication tools like audio conferencing, group chat, instant messaging, screen sharing, scheduled meetings, document sharing, virtual consultations, real-time chat and assigned tasks are required by all small companies, not only traditional for-profit ones.
Effective communication and collaboration tools for nonprofits, institutions of higher learning, schools and neighborhood associations are available on one platform.
These enterprises and small businesses need to run their business fast, which is made possible through Microsoft Teams without requiring IT expertise. It enables everyone to participate easily and effectively, whether or not they have an account.
Comparison of Best Video Conference Software With Microsoft Teams
Microsoft Teams is rated as an ideal video conference solution for large businesses. It is well-designed to support large organizations of up to 10,000 users, distributed over multiple channels and locations and provide the most generous plans in the enterprise.
You can find out more information on the Microsoft Team product lineup and the comparison to alternatives on its website.
Source Of The Support And Value For Small Businesses
Every business and community has cost at the top of its mind. Well, Microsoft Teams provides the most at the best price.
Technology tools—Teams Essentials provides exceptional value for small businesses and community groups with its robust communications features, active directory and single sign-on at the lowest price on the market.

Microsoft Support—Microsoft supports and hosts Microsoft Office Essentials in the Azure cloud. This entails safety, dependability, effectiveness and assistance.
Microsoft can provide the technology you require at a price that fits your budget.
Use Microsoft Teams For Small Businesses
Whether small businesses with small numbers of employees or large companies with a significant numbers of workers, Microsoft Team helps businesses collaborate, perform certain tasks, arrange meetings and structure the work.
Let's cover how a small business can use it for its benefit.
Communication
Users can communicate more effectively thanks to Microsoft Teams, which is one of its main benefits. Almost no conversation or time is wasted. The primary benefit is that it enables real-time communication within subject channels amongst chosen team members.
With Microsoft Teams, there is no longer a delay between team members who cannot view emails. It only keeps those participating in a particular work engaged and informed about the entire process.
Collaboration
Microsoft Teams provides the ideal online setting for teamwork. It enables you to structure and organize your work.
Each team member may quickly store, retrieve and generate content in Microsoft Teams, review prior chats, seek documents and find other data.
Additionally, when the business expands and more personnel are hired, they will have access to past discussions and data. Sharing knowledge and onboarding are made simpler as a result.
Get Started With Microsoft Teams For Small Business
You need to follow some simple steps below to start with Microsoft Teams.
Ensure you and your team have accounted for Office 365 and Microsoft 365. Since all Microsoft products are connected, switching completely to Microsoft is significantly more practical and time-saving. Many plans are in place, so you'll discover one that suits your requirements and budget.

Purchase a Teams license; you may begin with the free version or upgrade immediately.

Have a training session where you review Microsoft Teams' features and how to use them with your team.

Create your first team and channel by the organization of your virtual workplace, division based on department, clients, projects or another logic.
Benefits of Microsoft teams
Small Businesses get the following benefits from Microsoft teams:
Not Limited By Hardware And Software
The accessibility of Microsoft Teams from any location at any time on any device is one of its advantages. It works on all devices, such as Android, Windows and Mac. It only requires an internet connection.
Meeting and Scheduling Tools
While attempting to sync calendars, much time is well-spent in team collaborations. You can synchronize your current appointments with other team members through Microsoft Teams.
Voice Calling in Microsoft Teams
Microsoft Teams' phone service has been improved. Up to 250 employees can call external numbers anytime in high quality. These concurrently ring on a desktop and a mobile device.
Fewer Email Threads
Channels are part of teams. Every channel has a subtopic at its center. For instance, the Marketing Team might have a channel called "Blogs," whereas Company Announcements might have a channel called "General" or "HR related," etc. This segmentation provides a clearer picture of communication.
Microsoft Planner App in Teams
Teams have an app called Planner. Just include Planner in your Teams apps and presto! Teams are where you can find all of the Planner's tools.
Make Calls From Any Device
Downtime is possible with the Teams app. Set your do not disturb feature to operate during specific times each day, or turn it on or off for a little rest. Teams are available to you whenever you need them, in any format you prefer.
Microsoft Teams Pricing Options
Teams' free, though constrained, basic version has some restrictions. If you're a company considering Teams, you might be disappointed that it needs essential features like meeting recording and administrative tools.
Because it is more intended for personal use, we would advise only some businesses to use the free version. To get the maximum business value out of it, anticipate upgrading.
Teams streamline cooperation by dividing your business into several Teams, Channels and collaboration channels so that your inbox is a peaceful space. Teams is a place where you can be productive all in one place. Work is generally far more productive and a little more human.
Also, Microsoft Teams is a highly user-friendly tool that creates a productive, creative and active work environment. People from several geographic regions, both permanent and remote workers, can access Microsoft Teams.
Hope this article was helpful!