As parents, it can be challenging to work from home while also keeping the kids entertained. With so many options available, it can be challenging to know where to start in finding activities that will keep them occupied and help them learn and grow as individuals.
This article will provide you with some ideas and tips on how to keep your children entertained while you are working from home.
Whether you have younger children or older kids, this guide will help you find activities that meet their needs and interests.
Why Is It Important To Keep Kids Entertained?
Keeping kids entertained in the home environment is essential, as it allows them to develop basic skills while having fun. This can include problem-solving, creativity and communication.
Allowing children to explore their interests helps to inspire a love of learning that will stay with them throughout their lives. Kids create positive habits by engaging in activities, which is especially important during their early years when they are growing and developing rapidly.
Playing games with their parents or siblings helps to strengthen family bonds as well. It can also help kids become more socially aware when playing with other children, teaching them how to interact effectively and deal with conflict. This type of play also helps build confidence in young children and allows them to be creative.
In addition, keeping kids entertained can help avoid boredom and misbehavior at home. Engaging in activities can also lead to improved focus and concentration in school. Kids with a well-rounded education that includes physical and mental activities tend to have better grades and overall health.
Ideas For Entertaining Kids While Working From Home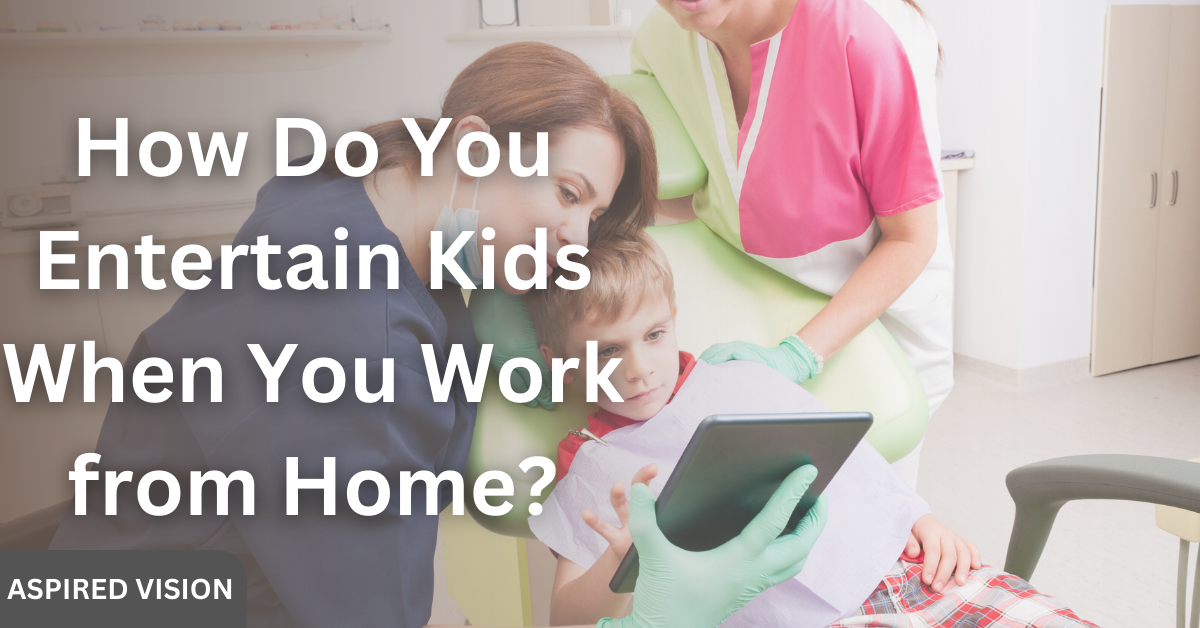 When it comes to entertaining kids while working from home, many activities will keep them occupied and provide educational benefits.
Play Games
Playing games can be a great way to keep kids entertained while you work from home. Board games, card games, or even simple word games can help the whole family have fun together.
Kids will love spending at least an hour playing their favorite game with you, and it is a great way to have some quiet time in the house.
Arts and Crafts
Arts and crafts offer an excellent way to engage kids in creative activities. You can purchase craft kits from a local store or create your own.
Make sure you give them plenty of ideas and tools, such as glitter, paper, glue, markers, crayons and safety scissors, so they can create their masterpieces. Ask your child to write a few words on the project to create a unique and personal touch.
Dance Party
Who doesn't love a dance party? If you have space, put on your favorite tunes and encourage the kids to get up and move.
Not only is this a great way to let off some steam, but it also helps to burn off energy so they can focus later on when it's time to study or do homework.
Make a Fort
Making a fort out of a large cardboard box is an old-school activity that kids still love today. This can be an indoor activity if you have space or an outdoor one if the weather permits.
Kids will love spending hours creating and playing in their own space.
Play Dough Activities
Playing with play dough is an easy and inexpensive way to keep kids engaged.
You can buy pre-made play dough at a local store or make your own using simple ingredients like flour, salt and water. This can be combined with other items, such as pipe cleaners, buttons and sequins, to help create a 3D masterpiece.
Educational Games
Kids learn best when having fun, which is why educational games are an excellent option for entertaining children.
These can involve sorting shapes and colors, spelling out words or playing online math games. This can be a great way to help kids develop skills without realizing it.
Baking and Cooking
Baking and cooking can be fun activities for kids to do while you work from home. It's also an excellent opportunity for them to learn about kitchen safety, nutrition, measuring ingredients and following recipes.
Have them help out with making dinner or let them create their own treats.
Storytelling
Storytelling is an excellent way to help your kids use their imagination. Let them tell you a story, or have them act out one of their favorite books.
You can also create stories and explore different characters, plots and settings.
Board Games
Board games are perfect for teaching children about strategy, problem-solving and critical thinking.
From classics like Monopoly to more modern games like Catan or Settlers of Catan, plenty of options are available for kids of all ages.
Nature Walks
Going on a nature walk is an excellent way for kids to observe the world around them, learn about plants and animals and get some exercise at the same time.
Too much screen time can damage kids' health and development, so taking a break to explore nature is beneficial. Bring a magnifying glass and binoculars for closer observation.
Create Obstacle Courses
Kids will love creating obstacle courses in the living room or backyard.
Use cushions, chairs, pillows and hula hoops to create obstacles they can climb over and crawl under. This activity is a great way to encourage them to use their imagination.
Scavenger Hunt
Scavenger hunts are a fun way to keep kids entertained while you're working from home. Create clues around the house and have them search for items or solve puzzles.
You can also turn it into a sibling competition or make it an individual game with a reward.
Idea Factory
The Idea Factory is a great way to get older children's creative juices flowing. Give them an object and have them brainstorm ideas on what they can make from it.
This could be anything from simple items like paper airplanes or origami to more complicated projects like birdhouses or boats.
Create Your Own Show
Creating and performing their own show is an excellent way for kids to express themselves. Have them put on a play, sing songs or act out skits they've written.
This activity can be as simple as putting on an impromptu performance in the living room, or you can create more elaborate sets and props using items from around the house.
Room Decorating Projects
If you're looking for a longer-term project to keep your kids busy while you work from home, consider giving them their own room makeover. Have them choose the paint colors, pick out furniture and accessories, or even create art pieces to hang on the walls.
This can be an excellent way to express their creativity and get design experience.
Important Things to Remember When Working From Home With Kids Around
For a parent, kids' love is a priority. Set aside time for the family. Working from home means that you can make some of the time family-related. Set aside time each day so everyone can relax and spend time together as a family.
Set Boundaries And Rules
Setting boundaries and rules when working from home with kids is essential. Make sure they understand that you are still at work, even though you're in the same space as them, and create a schedule for the day's activities.
Create A Designated Workspace
A designated workspace will help your kids understand that you need to focus and get work done. Set up an area in the house where they can't access or disturb you, so you can be productive without interruption.
Allow For Breaks
It's essential to give yourself and your kids breaks throughout the day. Allow time to do activities that don't require screens, such as playing games or creating art projects.
Be Flexible
Working from home with kids can be challenging, so it's essential to be flexible and aware of their needs. Adjust your schedule and work around their needs, as this helps them feel valued and respected.
Stick To A Routine
Having a regular daily routine will help your kids understand when it's time for you to work and when it's time for them to play. Setting up boundaries and giving them something to look forward to at the end of your day can help keep them motivated and focused.
Take Advantage Of Quiet Time
If you can, plan for times when kids are napping or having quiet time. This is an excellent opportunity to get work done without any distractions.
Homeschooling can be an excellent opportunity for parents to spend more time with their kids while still getting work done. Working from home with kids requires some adjustments and creativity, but it can also be an enriching experience.
With the right balance of boundaries, flexibility and fun activities, you can ensure everyone has a great time working from home. So why not give it a try? You may be surprised by how much everyone enjoys it!