It's hard enough to break into the marketing industry, but it's even harder when you have to commute to an office every day.
Marketing from home is easier than you think! With the right strategy and an understanding of the digital landscape, you can significantly impact your business with a laptop and a good internet connection.
Home-Based Media Marketers
Many businesses, including start-ups, small and medium enterprises, and large corporations, can hire home-based media marketers. A home-based media marketer can help a business create campaigns, build brand recognition, increase website traffic and conversions and improve overall online visibility.
Social media marketing is also becoming an increasingly important part of digital marketing, and businesses may require the expertise of a home-based media marketer to create effective campaigns across various social platforms.
Home-based media marketers can also be hired to help design and maintain company websites, search engine optimization (SEO) campaigns and launch online advertising campaigns. In addition, many businesses now require the services of a home-based media marketer to help them optimize their content for improved visibility and engagement.
How Can I Do Marketing from Home? is a comprehensive guide showing you how to start and grow a successful marketing career without leaving your home. You'll learn everything from setting up an office at home, finding clients and the types of jobs you'll find.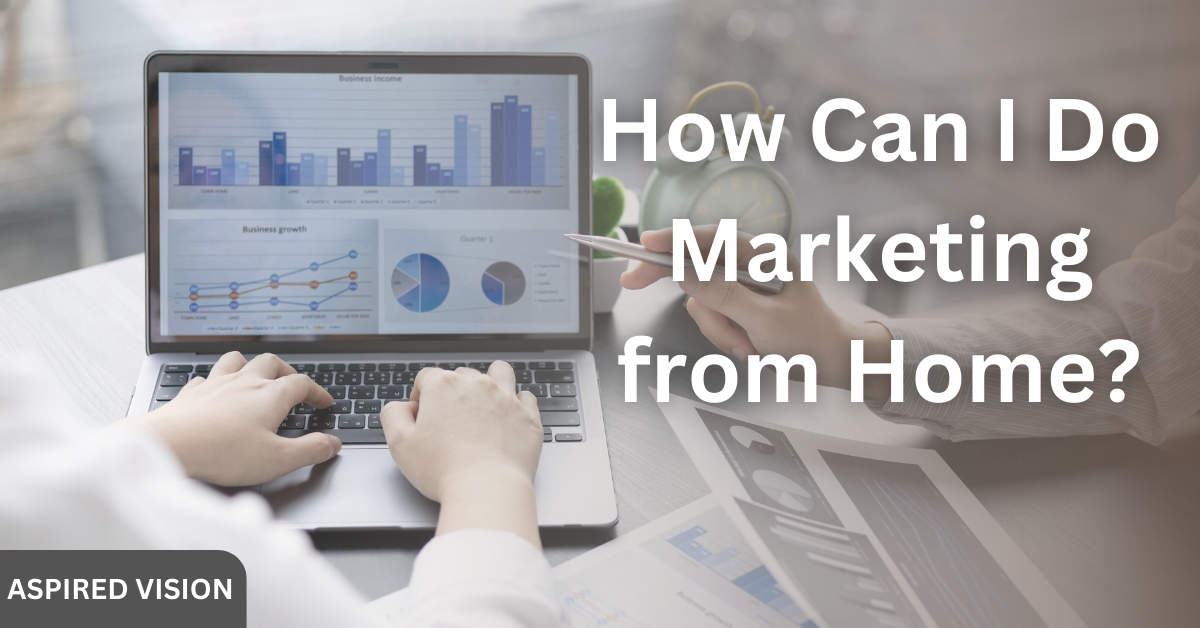 Some tips to help you get started:
Get Familiar with Different Types of Online Marketing
The great thing about home marketing is that you can use so many different types of online marketing. From SEO and social media to email campaigns, blogs and affiliate marketing, the list is truly endless.
To start your online marketing from home, it's best to familiarize yourself with each one and learn how to use them effectively. This will enable you to better understand the tools and strategies needed for successful online marketing and help you identify which ones best suit your business goals.
Set Up Your Home Office for Maximum Efficiency
When it comes to marketing from home, having an efficient workspace is critical. Setting up your home office for maximum efficiency will make staying organized and focused on the tasks more manageable.
Make sure you have a comfortable chair, desk, and all the necessary tools (e.g., laptop, printer, phone, etc.). Additionally, consider investing in noise-canceling headphones to help block out distractions and keep you productive.
Take Advantage of Social Media Platforms
Social media is one way to get your message out and connect with potential customers. Taking advantage of platforms like Twitter, Facebook, Instagram and LinkedIn will help you build relationships with those in your target audience and create brand awareness.
Additionally, social media platforms are great for sharing content quickly and effectively. From engaging posts to informative articles and videos, there are different ways to leverage social media for your online marketing from home.
Create A Content Marketing Strategy
Content marketing is a great way to drive traffic to the website and generate leads. When creating a content marketing strategy from home, focus on producing quality, engaging content that will help you reach the right people.
You should also use SEO keywords in your blog posts and other pieces of content to maximize organic visibility in search engine results. Additionally, consider repurposing your content across different platforms and formats, such as podcasts or infographics.
Utilize Email Campaigns
Email campaigns are a powerful tool for promoting your business and driving sales. When marketing from home, you can use email campaigns to reach potential customers, build relationships with existing ones and keep them informed about any updates or offers.
Make sure to customize your emails based on the recipient's interests, and A/B test the subject lines and body copy to determine what works best.
Leverage Influencers
Including influencers in your digital marketing strategy can help you widen your reach and enhance brand recognition. By partnering with influencers in your industry, you can tap into their existing fan base and introduce them to your products or services.
Additionally, consider offering discounts or exclusive offers to incentivize followers of the influencer to purchase from you.
Make Use of Analytics Tools
Analytics tools are essential for tracking the performance of your online marketing campaigns. Using these tools, you can measure your campaign's effectiveness in terms of website traffic, engagement rates and conversions. You can keep track of each campaign's overall ROI (return on investment) to determine what is most cost-effective for your business.
Monitor Your Results Regularly
Regularly monitoring your online marketing campaign's performance is important. With this method, you can discover which strategies are productive and what needs to be changed. You can keep track of your progress and adjust your campaigns to maximize effectiveness.
With careful monitoring and analysis, you can ensure that your online marketing from home is as successful and profitable as possible.
Stay on Top of Digital Marketing Trends
You must stay ahead of the competition by remaining current with the latest trends and developments in digital marketing. This will help you ensure that your campaigns are always up to date and effective.
Read blogs, attend webinars and follow industry influencers to stay informed on the newest strategies and tactics in online marketing from home.
Marketing Jobs You Can Do from Home
A variety of marketing jobs are available that you can do from home, such as
Social Media Manager
Social media specialists are responsible for managing the social media accounts of a business and creating content for those accounts that engage customers. Excellent skills in writing, creativity, and knowledge of the latest trends in social media are required.
The duties of social media manager include planning and scheduling content, responding to comments and messages, tracking analytics, and creating advertising campaigns.
Content Writer
A content writer researches a variety of topics and writes engaging and informative articles for websites. Content marketers should have knowledge of SEO principles, excellent writing skills, and a commitment to meeting deadlines.
Content marketers are required everywhere, whether the business is small or large.
Digital Marketers
A digital marketer or product marketing manager is responsible for promoting a company's products or services using online channels such as social media, email marketing, organic search engine optimization and paid search engine advertising.
Knowledge of digital marketing strategies, analytical skills and the ability to track the performance of digital campaigns is required.
Digital Marketing Consultant
A marketing consultant advises clients on the most effective online strategies for their business. This position requires someone who is current on the latest trends in digital marketing, has a good understanding of analytics and data and will present creative solutions.
Affiliate Marketer
An affiliate marketer promotes a company's products or services through affiliate links on its website or blog. Requirements for this job consist of a knowledge of how to promote products using online methods, an understanding of search engine optimization, the ability to build relationships with merchants and customers and track the performance of campaigns.
Email Marketer
An email marketer is responsible for creating engaging emails that promote a company's products or services. Copywriting skills, an understanding of email design and layout, the ability to write effective subject lines, and the ability to track the performance of email campaigns are the necessary skills for this work.
Search Engine Optimization Specialist
An SEO specialist will optimize a company's website to rank higher in search engines. This job requires an excellent awareness of search engine marketing. A working knowledge of SEO principles, google analytics, the ability to track the performance of campaigns, and the ability to optimize content for target keywords are all included in this specialty.
You Can Become a Successful Digital Marketer While Working From Home
With a suitable skill set, commitment and dedication, you can become a successful digital marketer, working from home. So what are you waiting for? Get started today!
Once you have developed your knowledge, start researching potential clients. Networking with other marketing professionals, attending industry events and conferences, and using online tools to identify companies that might benefit from your services are excellent ways to find potential clients.
Next, create a professional website or portfolio showcasing your skillset and experience. You should also make a LinkedIn profile and other social media accounts to help promote your consulting business.
Finally, reach out to the companies you identified and offer them a free assessment of their current marketing strategy. By doing this, you can demonstrate what value you could bring to the table, which will help convince them to hire you as their marketing consultant. With some hard work and dedication, it's possible to have a successful career working from home as a marketing consultant.